Elegance of Africa Wedding, Ngala Tented Safari Camp Wedding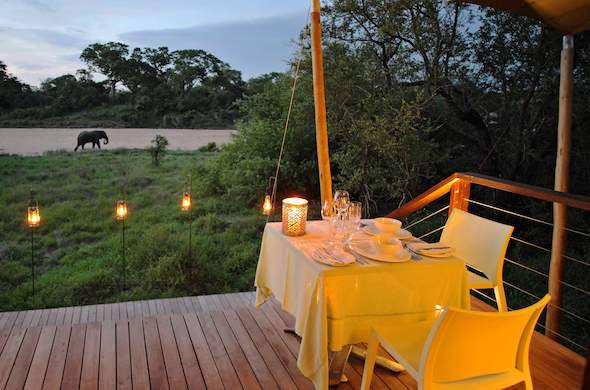 Start the first of your memories together with a magical bush wedding and honeymoon. Ngala is perfect if you want a magical honeymoon or wedding in the bush with Mother Nature and the wild on your guest list.
Wedding in the Bush
View Lodge
Ngala Tented Safari Camp is a luxury tented safari camp set in tranquil bush surroundings. Views cover the Timbavati Riverbed, the bush and the trees lining the riverbank. In the peace of the bush, complemented by stunning wildlife sightings you will enjoy the wedding and/or honeymoon of a lifetime. Ngala caters for intimate wedding ceremonies with Mother Nature bearing witness to the magical union.
Honeymooners will enjoy their large luxury bathtubs filled with warm soothing water and rose petals. To add to the private and romantic feeling, honeymooners can enjoy their private outdoor showers.
Getting Married
For those getting married at Ngala, many treats await you, from sparkling wine and the bridal gift, to a private Land Rover and romantic turndowns. Before the wedding, you will have a choice of a Classical or Pan-African cuisine menu. The atmosphere is one of casual elegance, with beautifully appointed tables under the trees, and your sumptuous choice of cuisine. Towards the end of the evening, staff will entertain you with traditional song and dance or a stirring guitar solo.
Your Wedding Ceremony
Ngala is the perfect setting for a wildly romantic African wedding. You will have a choice of venues for the wedding ceremony itself, tailor-made to your requirements. Special arrangements will be made to make your wedding and honeymoon a memorable one.
If you choose the Bush wedding, the ceremony will take place in the bush at sunset, a very romantic and breathtaking time of day. As you depart from the lodge, drummers will set the mood for an unforgettable evening. Grass mats on the ground will form a novel aisle and a sumptuous bush dinner will be served nearby. If you wish, a choir will sing hymns and the lodge can also arrange a microphone, flowers and a cake.
There are many breathtaking venues at Ngala where you can exchange vows. One other option is 10 minutes from camp at a place called Lena's Kraal. Under a Marula tree a simple yet elegant altar will be set up - a table draped with white cloth, and large candles on either side of an elegant arrangement of St. Joseph's Lilies. Wicker chairs are lined up on each side of a grass mat aisle, with 2 flares flanking the entrance.
The Wedding Banquet
he wedding dinner banquet can be enjoyed under thatch in the dining area, or in the famous candle and lamp-lit courtyard with tables featuring crystal, silver and white table clothes. Alternately, enjoy a buffet-style wedding dinner in the bush amidst romantically lantern-lit trees.
A range of suggested menus can also be compiled which you are more than welcome to adjust to your requirements. Flower arrangements, bouquets and corsages can be arranged as well. Ngala has an extensive wine and champagne collection with some of South Africa's finest wines.
Decor and Services
You will face a wide choice of wedding cakes, from a traditional iced fruitcake to a glamorous French "Croquenbouche". A florist can be recommended who will arrange beautiful fresh flowers such as huge bowls of roses or lillies.
The confetti used is eco-friendly, either dried or fresh rose petals, dried seeds, rice or bubbles. If you are interested in gifts for your guests, perhaps a welcome note, a farewell gift or even a long stemmed rose on their pillow on your wedding day. More turndown ideas like homemade nougat on guests' pillow or champagne will inspire you.
For that extra touch, you can be provided with special wedding ideas like a special boma evening, a bush breakfast or a morning game drive "the day after". A skilled photographer can be recommended as well.
Entertainment
To end your perfect day the wedding couple may wish, music or entertainment, theatrical performances or song and dance can be arranged for your bridal party to add that extra African cultural touch. Anything is possible at Ngala for you and your guests.