Zanzibar Seduction, Mnemba Island Lodge Wedding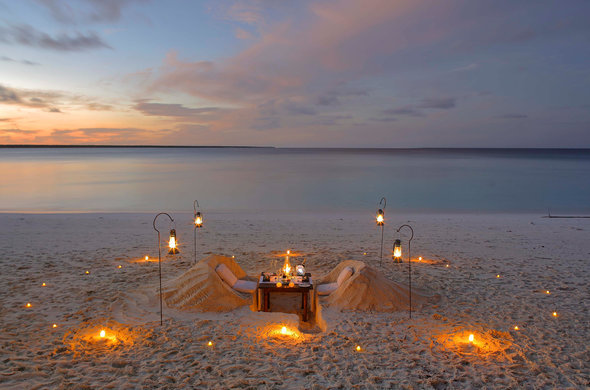 Experience the wedding of your dreams on the idyllic paradise island of Zanzibar.This wedding package is ideal for couples wanting a romantic and unforgettable island wedding.
East African Island Romance
View Lodge
Mnemba Island boasts the proud reputation of being the most romantic island in the world, making it the ideal location for the most special day of your life. Epitomizing luxury and romance of the highest standard, Mnemba Island Lodge offers the intimate and idyllic island wedding one can only dream of.
Your wedding ceremony
While the azure waters meet with the warm sandy beaches of Mnemba Island, pledge your love to one another under a sky dramatically painted in blue and pink hues. Open makuti roofed guest areas provide the ideal venue for a memorable island celebration, and affords the most spectacular views of the pristine ocean.Imagine a romantic candle-lit dinner on the beach, with the sun setting gloriously in the background, and the gentle waves of the ocean lapping on the beach. Beautifully lit by lanterns, the dining tables are fully adorned for a wonderful dining affair, whether for a large group, or an intimate dinner for two.Alternately a wedding banquet set under makuti roofed dining areas can be created at any time for the happy couple. Guests are served authentic Zanzibari fare while being surrounded by majestic views of the ocean and coral reefs of this romantic island.