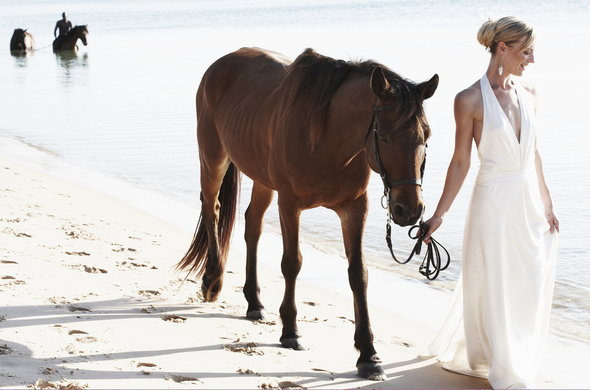 A romantic honeymoon in Africa, combining the best aspects of bush and beach to create a wonderfully romantic and memorable experience.
Emperors Palace Hotel and Casino
Sometimes, when you travel from far away, an overnight stay is required in Johannesburg. What better way to spend an evening than in a palace fit for royalty. The Emperors Palace Hotel and Casino offers elegant accommodation amidst the hustle and bustle of a casino. The Palace will keep you up until dawn enjoying the gaming rooms, live entertainment or strolling through the gardens, fountains and statues. The plush carpets and vibrant stained glass windows frame your existence in the city. The palatial buildings display decorated murals, frescos, intricate mosaics that any Roman would envy.
The world class cuisine complements the surroundings and your honeymoon is off to a pulsating start. It's difficult to imagine that you are just minutes away from the airport that will transport you to any combination of your dream destinations!
Rhino Post Safari Camp
Just hours away from Johannesburg, or a short flight away, is a special hideaway situated in the heart of the world-renowned Kruger National Park. This unique wilderness area is one of the premier game viewing destinations for your African honeymoon. The natural atmosphere of the Kruger Park dictates that the entire camp is on raised stilts which is a delight to any eco friendly honeymooner.
The cosy fireplace and bar are a welcome respite after a day filled with exciting game viewing, nature walks or just relaxing with your loved one by the pool. Take in views from the patio while you sip sundowners while the animals enjoy a drink at the waterhole. Life is refreshing at Rhino Post Safari Camp!
Anantara Bazaruto Island Resort and Spa
After a few days in the wilds of Kruger Park consider a relaxing stay at Anantara Bazaruto Island Resort and Spa on the pristine beaches of Mozambique. Take the plunge at Indigo Bay Resort to snorkel or scuba dive with your partner to share the wonders of one of the premier diving destinations in the world. You won't be alone with over 100 species of hard and soft corals, thousands of tropical fish species, 5 different types of dolphin, 4 whale species and sharks, marine sea turtles and the largest population of the rare Dugong.
Comfort and elegance await you in one of 30 rooms or 14 luxury suites strung along the beach like pearls. From the wilds of the casino to the wilds of the bush to the wilds of the sea this is the ultimate combination that your Siyabona Africa consultant can arrange to ensure that your African honeymoon is a lifetime memory.