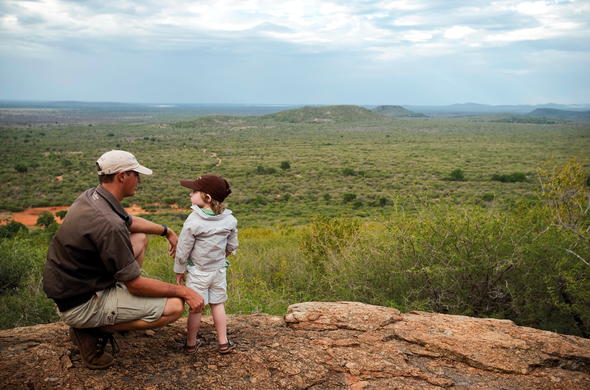 Track African wildlife on exciting game drives and enjoy delicious cuisine in Madikwe Game Reserve while on a malaria-free safari in South Africa.
Begin your malaria-free safari in South Africa with an exciting game drive. Game drives are offered twice a day, early morning and late afternoon / evening. Keep you eye out for the Big Five, namely Lion, Leopard, Rhino, Elephant and Buffalo. Other African wildlife you might spot include Giraffe, the elusive Wild Dog and Oryx.
The Madikwe Game Reserve is home to many different bird species. Interactive bush walks are ideal for birdwatching. You will learn more about nature while spotting some of the smaller creatures in the African bush. Some of the bird species you could see include Violeteared Waxbill, Crimson-breasted Shrike, Cape Vulture and Blackbreasted Snake Eagle.
During the warm afternoons, cool off in your sparkling plunge pool before having a relaxing siesta. Look forward to mouthwatering cuisine during your malaria-free safari in South Africa. Delicious meals are served under the African sky in the boma (outdoor enclosure).
Children Activities
Children over the age of 6 are welcome on the Adult Safari's in open vehicles. Madikwe Safari Lodge also offers family safari's in open vehicles where children from ages 2 are allowed to join in, these safari's are done in the mornings are rangers do not go into elephant or lion sighting areas for safety reasons. Bug CSI is offered by a field ranger, who takes the kids around the lodge area identifying the different bugs, tracks and interesting plants and writing up a list of everything that was seen and identified. Madikwe Safari Lodge provides notebooks for sketching and writing which can then be taken home as a souvenir.
Other children's activities include moulding of animal tracks with plaster paris, baking in the kitchen, making pizzas, games night, DVDs and soccer in the boma.