Kapama Lodge Dream Honeymoon, Kapama Game Reserve, South Africa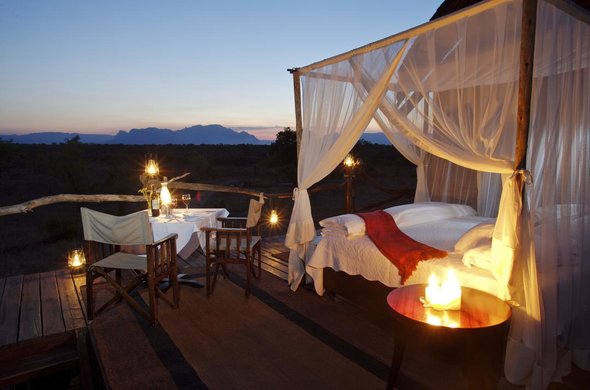 Experience the honeymoon of your dreams whilst at Kapama Lodge, where an intimate atmosphere, beautiful honeymoon accommodation, 5 star cuisine and impeccable personal service guarantees your imminent return.
With majestic, sweeping views of the surrounding plains and the tranquil sounds of a peaceful lake, this 5 star honeymoon accommodation is the epitome of luxury, style and romance. Inspired by authentic African textures and rich colours, Kapama Lodge offers a warm, intimate and romantic atmosphere to couples spending the most special time of their lives here.Delicious and memorable gourmet meals are served in the main dining room, the boma, or for a particularly intimate experience, in a secluded bush venue under a breathtaking canopy of African stars. Spend the days of your honeymoon in South Africa on morning and evening game drives with skilled rangers and trackers and discover the beauty of Mother Nature in all her glory.For a relaxing afternoon with your loved one, the tea deck is ideal for bird watching, and on those balmy evenings, sip exotic cocktails while gazing into the eyes of your beloved. An exciting and unforgettable way to experience the bush is the optional Elephant back safari, a wonderfully unique and interesting way to share the many wonders of the bush with your one true love.For those in an amorous mood, Kapama Lodge offers the most charming, newly refurbished rooms on par with its 5 star status for world class honeymoon accommodation. Poetic decor and world class amenities ensures an enchanting experience and unforgettable memories. Attentive, efficient staff at Kapama Lodge will do their utmost to provide the best personal service imaginable, making your stay at the lodge both romantic and idyllic.Being a firm favourite for honeymooners the world over, Kapama Lodge offers a South Africa honeymoon experience like no other. Improvements recently made to this already first class establishment include room upgrades, the introduction of a fine dining experience and private dining specially organised for loving honeymoon couples.In addition, the inclusion of an endearing sleep out deck proves to be quite special. Gaze out across the southern skies as they move from horizon to horizon. This romantic and enchanting experience is available to all honeymooners spending at least 3 nights at the lodge and the designated night will be determined by the weather.