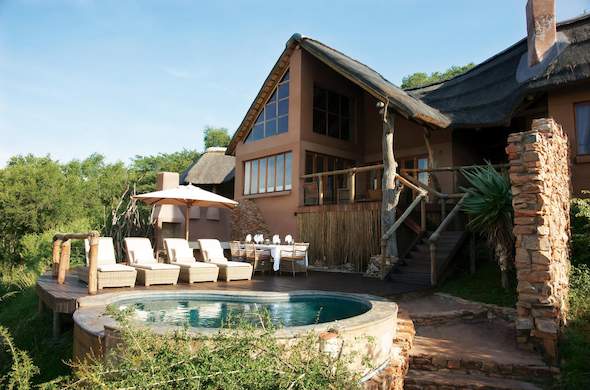 Like a flash of abstract artworks in black, white and brown, a pack of wild dogs makes an excited entrance in the precincts of Impodimo Game Lodge. It is a rare pleasure to be able to see this endangered species here in the Madikwe Game Reserve in a corner of North West province right on the Botswana border.
by Carrie Hampton
Wildlife Abounds at Impodimo

In addition to the
wild dogs
, Impodimo reports regular sightings of elephants. You do not necessarily need to go on a game drive to observe them as they are sometimes seen taking a mudbath at the lodge's waterhole. They do, however, prefer to drink out of something a little cleaner.

They boldly stroll up to the exposed retaining wall of the rim-flow swimming pool and squeeze around it four at a time so that they can reach their trunks into the clear water. Impatience gets the better of those waiting behind, who vent their frustration with a few ear-piercing trumpets.

With nature adding its helping hand, Impodimo manages to succeed in its intention to create a never-to-be-forgotten experience.But this cannot simply be ascribed to the willing wildlife. The staff play an essential supporting role, with visitors declaring in the guestbook how 'wonderful' they are. As
dedicated and professional
, are the highly skilled Shangaan trackers, who have the ability to find whatever animal you are looking for.
Intimate Dining Experiences

Guests also rave about the food and the surprise bush braai, which is a
lantern-lit barbecue dinner
in the middle of a clearing far from the lodge. Unbeknown to you, you are led to a feast containing dishes like marmalade-and-sage barbecued pork, stuffed chicken roasted over coals and ostrich potjie. A "potjie" (pronounced: poy - kee) is a casserole which cooked in a three-legged cast-iron pot, which actually stands in, or hangs over a blazing fire fire. Just like the old days.
Excellent Accommodation

Returning to the lodge, you will find that the bed in your glass-fronted suite has been turned down and that, on cold nights, the fire has been lit. The
warm African decor
, with fabrics in nature's own colours, complements the design of the lodge.

Eye-catching features in this multilevel thatched space, are floors inlaid with stone and a screen created from branches that separates the mezzanine lounge and dining area below.
Visit Impodimo Game Lodge