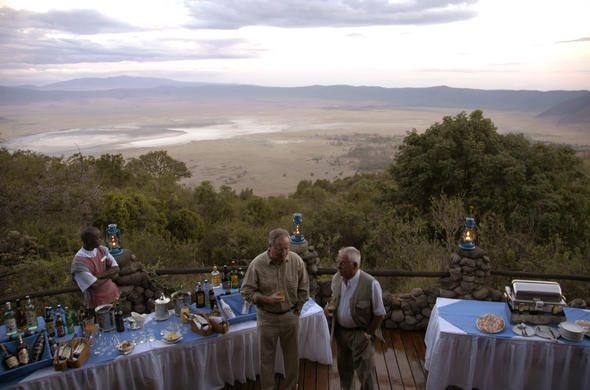 © Sundowners as dusk settles over the Crater at Ngorongoro Serena Lodge
Often described as an African theme park Ngorongoro was born from the volcanic destruction of a free standing mountain thought to have been higher than Kilimanjaro.
The crater that was left gradually filled up with soil enabling plants to take root, and eventually providing an ecosystem for a vast variety of wildlife.
Ngorongoro Highlights:
Ngorongoro is a World Heritage Site
Nearby is Olduvai Gorge, the 'Cradle of Mankind'
Best place in Tanzania to see black rhino
Big Five can be seen in the Crater - lion, leopard, elephant, rhino, buffalo
Largest intact, un-flooded caldera (crater) in the world
A spectacular array of wildlife
Home to a few thousand Maasai
Lake Magadi, a soda lake, is often visited by flocks of flamingos
Best time to visit Ngorongoro:
For wildlife viewing inside the crater, all year round, although during the heavy rains in April to May, some days might be difficult to descend into the crater.
Ngorongoro Safari
See
tours and safari lodges in Ngorongoro Crater