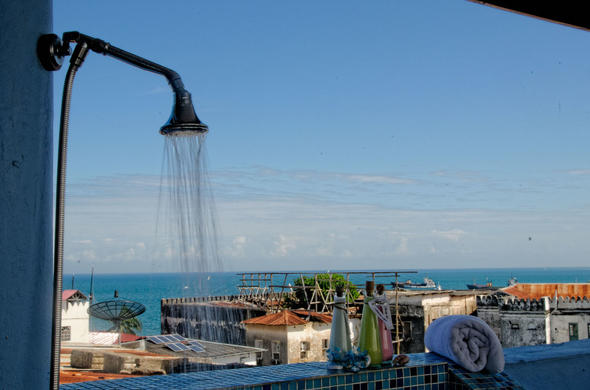 © View over Stone Town from your Shower. Zanzibar Palace Hotel
Stonetown on Zanzibar Island is a tourist destination in its own right but combined with the legendary Game Reserves of Tanzania it becomes an iconic end-of-trip travel destination.
The oldest part of Zanzibar City, Stonetown was once the trade centre of the east coast of Africa and the centre of the slave trade before all moved to the mainland. Remnants of the slave trade days can still be found in Stonetown.
Early explores such as Livingston used the town as a base during their exploration days. Today Stonetown is a world heritage site for its architecture and history.
Alleyways of Architectural Fusion
Often described as a warren of alleyways and crumbling buildings, Stonetown is an intriguing mix of architectures and styles. Arab, Indian, European and African styles fuse together in the seemingly dilapidated buildings but it is in this mix that the vibe of Stonetown is defined.Once the centre of the East African coast Stonetown today has offered its new charm to the thousands of visitors that pass through whilst visiting Zanzibar, and provides a rich insight into the days of yore along the coast.
Highlights of Stonetown
Early history of East Coast - The East Coast of Africa played an important role in the slave trade and Stonetown showcases this
Trading on the High Seas - Aside from the slave trade the commodities trade was a massive part of the history of Stonetown
Wonderful Architecture - The architecture of Stonetown is a fascinating mix of cultures and eras