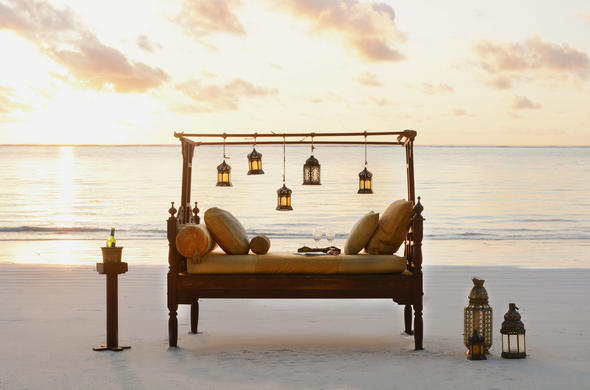 © Romantic champagne sundowners at Breezes Beach Club
The beaches on the mainland and on the islands of Tanzania are becoming legendary for their warm waters, safety and incredible marine diversity.
Tanzania is legendary for its wildlife and the historical and mystical temptations of Zanzibar but what is not well known is that the country boasts a coastline of spectacular beaches and intimate offshore islands. And as spectacular as the beaches and islands are the coast is probably best known for its rich history of sultans and slavery.
Intimate Islands and Historical Towns
The offshore islands of Tanzania are dominated by Zanzibar, or Unguja as it is more correctly known, and Pemba which form the Zanzibar archipelago. South of Dar es Salaam are the smaller and more intimate islands of the Mafia archipelago where a marine reserve ensures some of the best diving along the African coast.The mainland coast has its share of attractions including the historical town of Bagamoyo and one of the very few reserves where the African bush meets the sea. Saadani National Park offers the rare holiday where a wildlife safari can be combined with a beach holiday without changing lodges - and you may even see elephants swimming in the waves.
Highlights of Tanzania Beaches
Range of Activities - The Beaches of Tanzania are renowned for their watersports - and access to historical sights
Big Five on the Beach - Saadani National Park is the only place in Tanzania where you will be able to watch elephants wallowing in the ocean surf
Tropical coastline - pristine and unspoilt palm tree framed beaches
Rich history and cultural mix
White-sand beaches and magnificent marine life
Reefs are great for snorkelling and diving
Great combination with wildlife safari
Range of Accommodations -
The Beaches of Tanzania and the islands offer accommodation from rustic camping to six star luxury
Best time to visit Tanzania Coast:
June to September. The diving is good August - December.