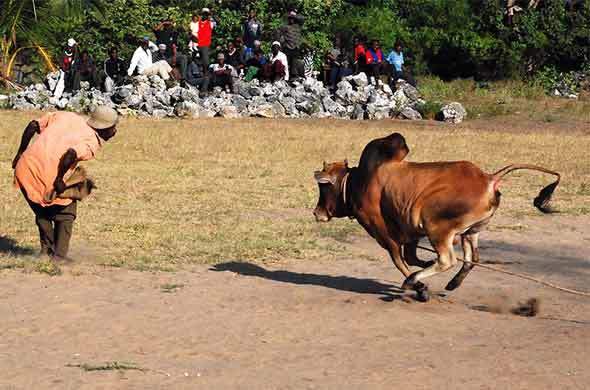 © © Mr Poussnik
Before you jump to conclusions, bull fighting on Pemba is a test of skill and not a fight to the death. When you visit this Indian Ocean Island in Tanzania you can witness this traditional sport as part of a variety of cultural interactions.
Forget about the bloody battles of its European counterpart, bull fighting in Pemba is much more civilised! No bull is hurt in the proceedings - in fact the animal is treated with respect and well taken care of by its owner.
Origins of Bull Fighting in Pemba
The East Coast of Africa has seen the comings and goings of many sea-faring nations - some just came to trade while others came to rule. The Portuguese made their claim in the 16th and 17th centuries and it is thought that bull fighting emerged from this period, due to the inter-mingling of cultures over decades.
When and Why
There is no particular time for bull fighting, although the hottest time of the year between August and February appears to be the favoured season. A display may be put on at certain celebrations or when there is a national event happening. A private tour can also be arranged for a group booking.
A bull fight is seen as a test of bravery for men who farm livestock. The toreros or bull fighters consider what they do to be form of art. Even though the bull is tethered with a long rope and does not have horns, the torero could easily be trampled or injured. The bull fighter must perform a variety of skilful moves at close range to avoid the charge of the bull at the last minute.
The Experience
Bull fighting takes place in a number of small villages such as Chuale and Kangagani or on Kojani Island. The event draws a big crowd which gathers around the pitch. The bulls are paraded around with pride while drummers and singers provide a festive atmosphere.
The show is often started with a display of traditional stick fighting by local farmers followed by the bull fighting. The toreros each have a turn to execute their particular manoeuvres and entertain the enthusiastic crowd. At the end of the show the bulls are admired and praised.
Pemba Island
Pemba is situated just north of the island of Zanzibar and it is better known for its stunning beaches and excellent snorkelling and diving sites. The people of Pemba are friendly and not as exposed to tourism, so cultural interaction is interesting and authentic. The island is quite rural and undeveloped with beautiful forests and a number of historic sites.
by Heather Willmore