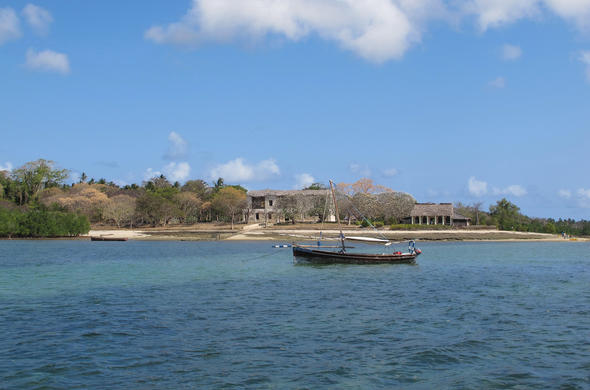 © Chole Mjini Lodge - Mafia Island
If you are looking for a truly unspoilt hideaway with spectacular marine activities and beaches, then Mafia Island in Tanzania is the place to go. It's the real deal - you won't find hordes of tourists here.
Mafia Island is a jewel of an island in the Indian Ocean, just southeast of Dar es Salaam. It is the largest island in an archipelago and a best kept secret amongst many return guests. Visitor numbers are relatively low, which is a contributing factor to the pristine and untouched condition of the island. Mafia is surrounded by a protected reef which is world renowned for its incredible fish and coral species.
Discerning guests come to Mafia Island to escape. Castaway picnics, dhow safaris, delightful walks in nature and exceptional diving and snorkelling are just some of the attractions. The people of Mafia Island are remarkably unaffected by the outside world, so cultural interaction is very rewarding and authentic.
A brief history
It is not clear how the name Mafia came about, the word could be a derivative of 3 possibilities - the first is from the name of the Ma-afir tribe of ancient Yemeni origin, who ruled in this area about a thousand years before the birth of Christ, the second is from the word 'morfiyeh', which is Arabic for archipelago, and the third is from the Swahili words of 'mahali pa afiya' which mean a healthy place to live or dwell.
Mafia Island was for many centuries a stopover for Persian and Chinese merchants who linked the East African trade route with the East. Archaeological evidence suggests trading was active as far back as 200BC.
Arab traders played a major part in the history of the archipelago and the establishment of the Swahili culture, setting up a trading empire on Kisiwani Island. There were 2 devastating attacks by an army of cannibals in separate incidents on the islands, the first was on Kisiwani Island in 1588 at Kilwa, and the second was on Juani Island in 1829 - both places are now of historic interest to visitors.
Since the 1500's Mafia Island has been ruled by Portugal, Oman and Germany and also briefly by the British in the early 1900's, before coming under the rule of Zanzibar and finally the Tanzanian government.
Overview
Mafia island is located just off the mainland near the Rufiji River Delta (which appears to have once been a major river port many centuries ago). Mafia is surrounded by 9 smaller coral islands and some sandbars that change according to the tides. The island is about 50km (31 miles) long and 15km (9 miles) wide. It does not have tarred roads or a sophisticated infrastructure.
A barrier reef that circles the island is rich with marine life and most of Mafia's coastline falls within the internationally recognised Mafia Island Marine Park, in particular the southern section around Chole Island. The reef is not fully explored and new dive sites and discoveries are often found. There are at least 400 fish species and 50 coral species recorded in the reserve. The marine park is a sanctuary for endangered creatures such as Dugongs and sea turtles. In the months of March and November you can even dive with Whale Sharks.
The island has areas of dense vegetation, grasslands, mangroves and moorlands, low lying rainforest and high forest. You can see many 'upside down trees' or Baobabs on the island. Pygmy Hippos are reported to live around the interior lakes - it is not certain how they got on the island from the mainland. Other animals include Flying Foxes, monkeys and Bushbabys plus at least 100 species of bird such as the Crab Plover and 5 types of Sunbird.
What to do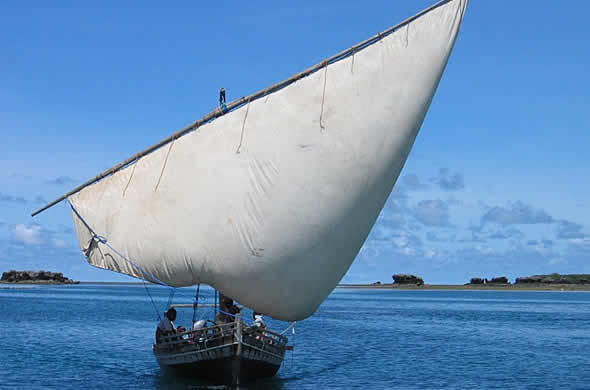 Mafia Island does have some pretty beaches but most of the idyllic ones are found on surrounding islands and tidal sandbars. These beaches are reached on snorkelling and diving excursions and dhow safaris. There are many bays, inlets and lagoons that can be investigated by boat.
Diving and snorkelling opportunities around Mafia Island are absolutely first class and all diving levels are catered for at the dive centres. This is a world renowned destination for marine sports. Other water activities include kayaking, sailing, fishing (catch and release), windsurfing, boat excursions and dhow safaris - a dhow is an type of Arab sailing boat that has been used all along the East African Coast for centuries.
On land you can enjoy cultural excursions to local villages and see traditional hand-crafted boats being made. Other popular activities include cycling, nature trail hikes, reef walks and bird watching. You could also visit points of interest in the archipelago such as the Chole Ruins, Kua Ruins, Kisimani Mafia and the Juani Island Caves. Castaway picnics on sandbanks and little islands are a highlight in the archipelago.