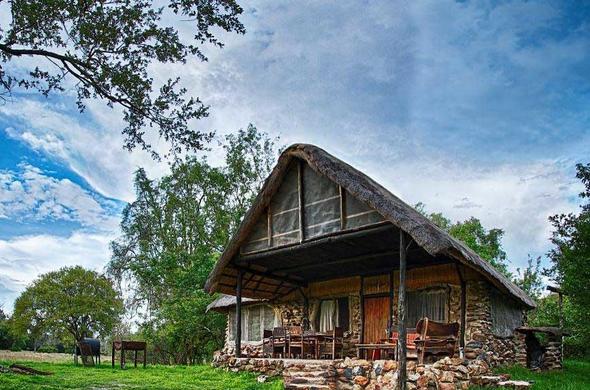 "Just when I thought life on safari couldn't get any better, it did. As if sitting in a sandy-bottomed bubbling hot spring on the edge of the Kafue River, with fireflies dancing around my head, wasn't enough, I was then informed that Hippo Lodge offer massages at this spot too."
This information served to put the cherry on top of the safari cake for me and I mentally awarded Hippo Lodge in Zambia's Kafue National Park, top honours in my safari lodge repertoire.
I don't want to brag, but I have had
the over-indulgent pleasure
of visiting more than 150 safari lodges in the course of my work as a travel writer specialising in African safari. Tough I know, but somebody's got to do it and write the reviews to help you decide where to go on your African safari holiday.
Bubbles Tickle Your Whole Body
There's been
no luxury denied to me
, but I no longer swoon at a four-poster swathed in white netting, or get excited about a chocolate on my pillow. A plunge pool on the private wooden sundeck of my safari suite is passé to me, but take me on a game drive to see some of the rarest African birds and animals, then stick me in a natural hot spring with a glass of bubby, and I'm impressed.
Imagine this;
bath-temperature spring water
(free of any nasty sulphur smell), soft sand underfoot and bubbles coming out of the ground and tickling you up the length of your body. I am thankful that the masseur was on leave, as I am not sure I could have coped with this ultimate luxury - after all what would be left to me?Another great thing about Hippo Lodge is that it isn't a fancy shmancy safari lodge that you need to raise a mortgage to visit.
It is affordable
, considering the specialness of the place.
Pack the barest minimum - a pair of khaki shorts, t-shirt and cozzi - and you'll feel at ease, because this far into the bush, there is reason to dress up. The focus at Hippo Lodge is about experiencing safari life in its truest sense;
time to relax, unwind and appreciate
the fact that you are about as far away from city life as you can possibly get.
Catch Your Own Lunch
When partner and manager
Bruce Whitfield built Hippo Lodge
(with his bare hands), he didn't initially realise that he had positioned the lodge to take full advantage of the sun setting over the Kafue River. What he did take into account was the proximity to several islands in the river, on which he has set up a fly camp for an overnight tree house experience.
>Day visits to the islands also make for
long leisurely lunches
; bream freshly caught by your own hand, filleted and battered by the staff, then deep-fried in a skillet over the fire with real chips. Sublime.These islands also enhance the game experience as elephants obviously wade out to the islands, judging by the large dollops of evidence. There are hippos and crocodiles too, who usually push off when disturbed. Birdlife is outstanding, with
sightings of pels fishing owl
, finfoot, Schalow's turaco and other rarities that send twitchers into a complete tizz.
But it's leopards that people want to see and considering Kafue is roughly the size of Wales (22,400 square kilometres), I thought the chances were slim. I was wrong. Most guests at Hippo Lodge
get to see a leopard
during their stay, and so did I. Our leopard was big and strong, crouching in the reeds along the riverbank. Even through binoculars, his eyes seemed to pierce into my consciousness; I could feel his feline power.
The Lion Brat Pack
But it was the
lions that cause the most trouble
. The 'brat pack' were three males not quite grown up enought to have their own pride yet, but hell bent on having fun anyway. Bruce had to explain to Igor, his business partner, that it was the lions who ripped up the vehicle's canvas seat cushions, which had been left outside the storage room.
I bet the lions couldn't believe their luck when they found the newly covered cushions left outside again, so they gleefully tore them into shreds. Igor was not amused. This story served to change the nocturnal habits of my fellow companions, who had been wandering around in the darkness, blissfully unaware that the 'brat pack' visits the camp quite regularly (looking for some tasty fabric presumably).This information preceded another incident, in which a lion paw print was found on the bedspread in Gabriel and Leon's cottage. I heard noises coming from their abode, but with the 'brat pack' already invading my dreams, I decided against venturing out into the night.
They roused Igor from his bed
with a story of lions in their house, but he said sleepily that he knew nothing about lions and they should consult Bruce.
Bleary-eyed, but still ever so manly, Bruce came to inspect the paw print and nodded his head seriously while studying the print from all angles. He then stated that
this was indeed an animal print
; belonging to a human hand that had pushed off the bed leaving indentations that any bushwhacker would know did not belong to a cat. Laugh, I almost cried.
I bet Bruce and Igor added this story to their repertoire and will dine out on it for a long time to come. Get them to tell you their version when you go to Hippo Lodge, and if you take my advice, Hippo Lodge should be right at the top of your list of places to go this year.
Useful Info
Where is it:
Hippo Lodge has a massive wilderness area of Kafue National Park all to itself and you won't see another vehicle apart from the one you are in. It is about 5 hours drive from Lusaka or a short hop by light aircraft direct to the lodge. Sefofane air charters fly into that area and are a well-recognised professional outfit.
How to get there:
The friendly faces on Zambian Airways made it a pleasure to fly with them from Johannesburg to Lusaka. Thereafter Igor will drive you in a comfortable air-conditioned 4x4, or will arrange the short air transfer to the lodge.
When to go:
The best time to visit is the dry winter/spring season from July to November. I visited in September and the weather was perfect at about +-26°C. October and November become hotter, easily reaching into the 30's, and the humidity arrives with the rains from December to April when it is very hot and humid.
What's the food like:
Really good, unpretentious, better than home-style fare. Tasty steaks, lamb fillets on the barbeque, crispy salads and best of all fish fresh caught in the river with chips made from real potatoes. Plenty of cold beers and bar drinks.
And the rooms:
There are several cottages of various sizes dotted along the riverside which are delightful and comfortable in a semi-rustic way. There is no air-con so avoid the hottest months. When they have completed an upgrade of soft furnishings and some finer details, the accommodation will be improved, but the beds are big and comfortable and the chalets attractive.
What's on Offer:
Game drives (including frequent sightings of very rare sitatunga antelope), bush walks in big game country, island visits including a sleepover on Lunga Island, birding safaris (a birdwatcher's paradise for the number of rare species), fishing and river cruises (see the crocs and hippos), visit to an old copper mine, swimming pool, and last but definitely not least, the bubbling hot springs, with in-room or hot springs massage at certain times of the year.
Anything else:
With an abundance of minerals and semi-precious stones in this part of Zambia, the lodge was built incorporating massive crystals into its walls; a huge amethyst and other giant gems shine through the fountain that cascades into the swimming pool.
These are the views of travel writer Carrie Hampton, who is under no obligation to say anything nice about anybody. © Carrie Hampton
carrieh@iafrica.com
www.travelwriter.co.za