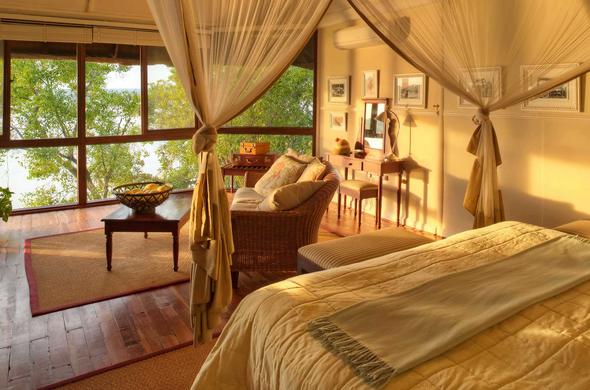 Livingstone, Zambia is experiencing something of a revival and Carrie Hampton goes there to meet some of its more interesting characters. She finds herself in top class accommodation �.
Livingstone Lives On
Almost sedately, the Zambezi River approaches the edge of the Victoria Falls, then cascades out of control over a sheer 103 metre drop. The Victoria Falls are the
most famous tourist attraction in southern Africa
and really are as spectacular as their reputation. David Livingstone also thought so when he finally reached them in November 1855 after hearing about the Mosi-au-tunya 'Smoke that Thunders', some four years earlier.He found the
widest curtain of falling water
in the world, which during the warm rainy season (February to April), gushes with over thirty times its dry season flow.
Livingstone Revival
The Zambian side of the falls and the town of Livingstone are experiencing a revival as a result of Zimbabwe's fall from grace. Livingstone still retains that old African charm now lost in its rival Zimbabwean town of Victoria Falls.
Classic art deco buildings
along Livingstone's main street have had a new coat of paint, and wide plantation-style Victorian houses are being renovated for burgeoning businesses.The large South African hotel chain, Sun International, has constructed two new tourist resorts overlooking the Zambian side of the Falls and there is
a definite air of positivity
in the area. It is a shame therefore that since the troubles in Zimbabwe, the number of tourists in peaceful Zambia has fallen dramatically.
Colonial Life is Alive and Well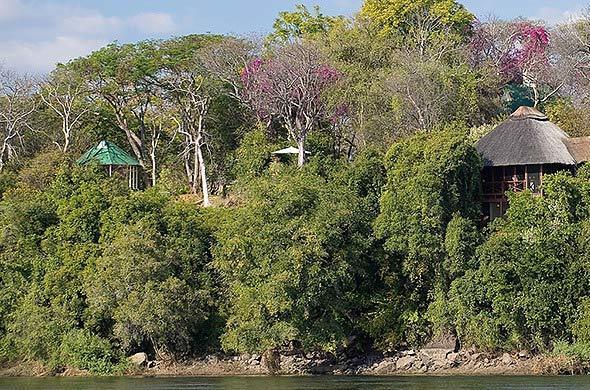 Those that come are enchanted and surprised at just how civilised life can be in darkest Africa. Anybody who thought that
the best of colonial life
was long gone is very much mistaken. It is alive and well and can be experienced in full at the luxurious River Club situated 26 km along the Zambezi from the Victoria Falls.Considered to be the most stylish accommodation in the area, The River Club was born out of one man's desire to build a classic elegant colonial-style lodge
in the best British tradition
. Born in Zambia and returning there after serving as a British Army Officer, MD Peter Jones was canoeing down the Zambezi when he saw the perfect patch of land for his retreat.After protracted negotiations he secured his prize - an elevated section of wooded riverbank with
views along the Zambezi
, and a game reserve on the opposite bank providing an animal-viewing element.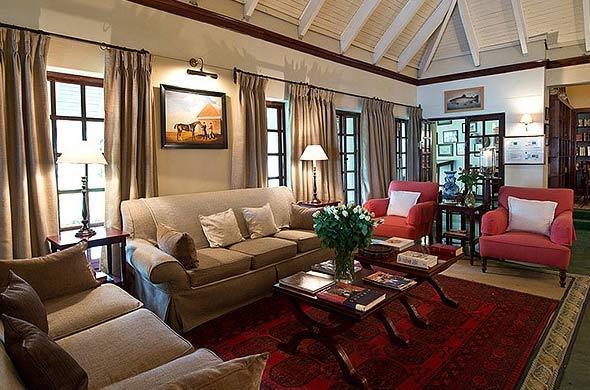 The hub of the lodge is the central library, lounge and dining area, where ceiling fans cool the air and
sofas line the veranda
. Breakfast and lunch are moveable feasts and you might find your table out on the lawn, by the pool or, for those special occasions, on your own private island in the middle of the Zambezi.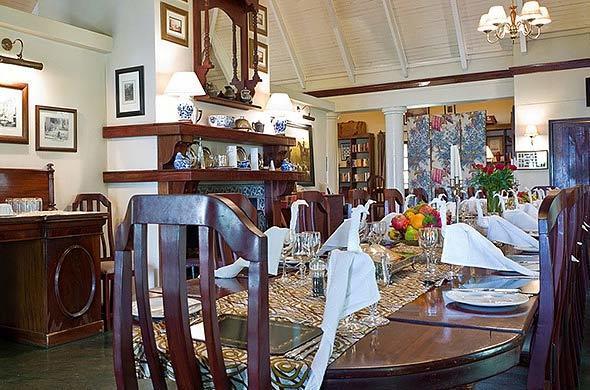 Dinner is a grand affaire where up to 20 guests sit together at a long teak table. No less than four glasses glint in front of each place setting , but
your bar bill remains at zero
, as the tariff is all inclusive.If Jones is 'hosting' the table that night, you will be in for
some mess room humour
and horn blowing antics if you fail to pass the port to your left. His faithful Labradors howl if you manage to get a note out of the battered bugle, and only cease upon their master's command.
Your Suite Has No Front Wall?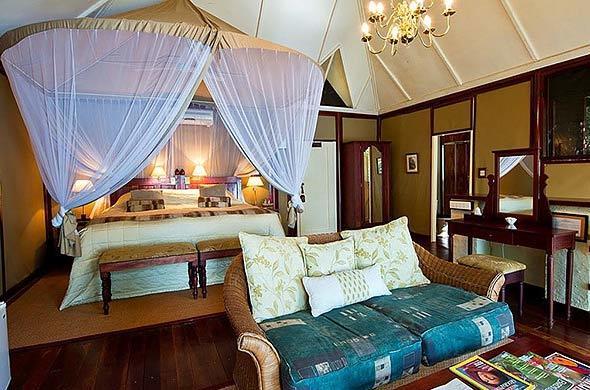 When
guests are shown to their chalet
, discreetly set amongst trees on the riverbank, they are astonished to find the front wall of their suite entirely missing. This bold design has been done with such style that you can't wait to slip into the ball and claw footed bath for a long sunset soak while watching for elephants, hippos and crocs.This 'outside inside' concept, Jones says, comes straight out of the army handbook, but in this case, has been embellished to
a 4 star standard
.Jones epitomises the qualities required to live and work in Africa. These include a stubborn refusal to let the frustrating ways of a third world country get in the way of
a jolly good life
, the patience to work in what is commonly called 'Africa Time' (rather slower than most paces) and a well developed sense of humour.
Naked From The Ears Up
'Why are you naked from the ears up?' Jones asks one of his waiters who has forgotten to put on his tasselled red fez. On the croquet lawn Jones will tell you to 'give it some welly and sod off up the other end of the lawn.' His
brand of River Club golf
involves hitting a wooden ball over gravel pathways (which are treated as water hazards), to complete the hole by smacking the ball into a selected tree. A 'tree in one' is highly sought after.He cracks a good yarn too and his Officer's Mess
humour has been perfected
on unsuspecting guests. Don't fall for such comments during a croquet match as, 'I think you have dropped something,' whereupon Jones insinuates that it must have been your lipstick as he has never seen such a namby pamby shot.
Like A Weekend House Party
The whole
ambience of The River Club
is that of a weekend house party. All that is missing is Bertie Wooster and Jeeves, but then with Peter Jones around, who needs them!There are quite a few other lodges on the Zambian banks of the Zambezi. Tongabezi just next door, offers
luxury in an African style
. Everything in the open-plan room is moulded from what seems a continuous lava flow of ochre tinted plaster. The firmly rooted sofas emerge without interruption from the floor, then transform into shelving before free flowing across the floor to rise as a lamp stand next to
the expansive moulded bed
.Then I noticed something was missing. Once again
there was no front wall!
I began to wonder if I could get away with this in my home. After all Livingstone has heavy rains and cold nights too. Could I be at the forefront of a new style trend?
Bob The Birdman
One unusual character with no time for style is Bob the BirdMan. Based at Tongabezi but available for hire by any keen birder, Bob is so focussed on his subject that he has forgotten to wash for a while. Grungy is the only way to describe his appearance, but the
opportunity of taking a trip
with him should not be missed. Name a bird, any bird from the area, and he will recreate its call.Spittle flying, his tweeting might send you into spasms of mirth, but it will also induce a vociferous response from the real thing. You can then creep up on
the territorial Crested Barbet
, who is thoroughly put out that another male dare encroach on his patch. By the end of the morning you too will be able to sound like a male Barbet or a Chin Spot Batis, or perhaps you would like to try the cry of the Fish Eagle!Whatever your choice,
there is a lifestyle to suit you
somewhere along the Zambian banks of the Zambezi. You will almost certainly get to meet one or more interesting characters, as there seem to be enough eccentrics to go around for such a small place. This area is of course the adventure capital of Africa.You can scare yourself silly by bungee jumping off the Victoria Falls Bridge or take the
plunge into monstrous white water rapids
on a boogie board. Any daft thing is available here. The one daft thing that you might do, is not head in this direction for a seriously good African holiday.
Copyright © Carrie Hampton. All rights reserved. Reproduction in whole or in part without the permission of the author is prohibited.