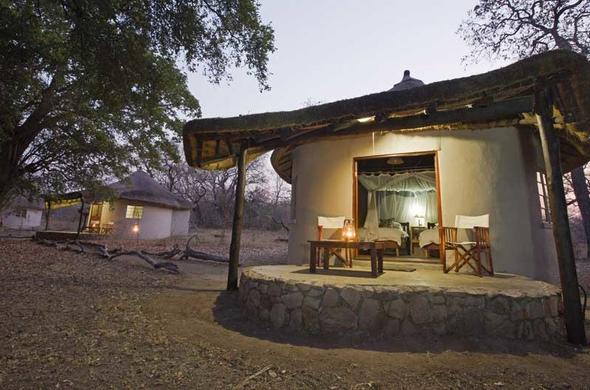 Lufupa Camp is in the wilds of Kafue National Park in Zambia. Carrie Hampton explains that you come here for a rustic safari experience in the truest sense of the word. She says, 'you don't come to this camp for interior d�cor, you come for interior gratification.'
Kafue National Park is so big (about the size of Wales or twice that of Yellowstone National Park) that I thought it would be impossible to see a leopard in the remote northern stretches of this Zambian wilderness.
I was wrong, almost
every guest at Lufupa Camp sees a leopard
during their stay. Perhaps it is because Lufupa Camp is right on the Kafue River and supplies a ready source of water in this dry landscape.
My leopard was on the riverbank and a mighty fine specimen he was; large and muscular compared to the dainty leopards I have seen in South Africa's Kruger National Park.
Kafue is even bigger than Kruger and there are so few safari lodges that it has a far-from-anywhere feel. That is exactly how I like it when I am on safari in Africa. I don't really want too many other guests either, so Lufupa was perfect with
only six safari tents
and more staff than guests.There are not so many safari first timers in Kafue as most tourists are sent off to the 'soft safari' areas of South Africa, where
Big 5 sightings
are almost guaranteed. Here in Kafue, nothing comes standard.
You take what you gets in a wild, roughty toughty sort of way. It's a raw and earthy kind of place, where
serious safari vacationers
come to get away from everything.
That goes for the accommodation too, which is comfortable without being modern or fancy. The
large walk-in safari tents
stand on cement screed floors entered via a rough wooden deck. A simple director's chair and little wooden table suffice for reading a book or watching the constant array of birdlife in the riverine trees.Canvas roof and tent sides are softened with curtaining on rods across the wide mesh windows, but a strong breeze can send the curtains parachuting across the bed in the middle of the night.
This
lodge epitomises rustic
; a word that is bandied about to describe just about anything that is slightly rough around the edges. But Lufupa Camp is rustic in the true sense; concocted from local materials for an unsophisticated yet restful result. Even if it had white linens, plump pillows and fluffy towels, it would still be rustic.You come here not for interior décor, but for interior gratification - to imbibe a sense of feel-good from the surroundings and to feel the African earth under your feet.
Listen to fish eagles crying all day
, hornbills and black-collared barbets adding their distinctive sounds to the haphazard chorus, and percussion courtesy of incessant cicadas.
Hippos round off the performance with an evening grunt before they leave the water to graze on grasses. In the dead of night the soft hooting of owls is pierced by
manic laughing hyena
or a distant deep-throated rumble from a male lion. I may not have heard the leopard, but I knew he was there and while I slept he crept around the camp and left his footprints for me to see in the morning.
Useful Info
Wilderness Safaris:
Lufupa Camp is part of the Wilderness Safaris Kafue operation, which includes a few other lodges dotted around this massive reserve. Lufupa is in the north and it is suggested that you include a couple of nights in one of the lodges on the Busanga Plains, which offers a completely different game experience.
How to get there:
Sefofane air charters fly you from Lusaka to an airstrip about an hour's drive from Lufupa Camp. This gives you a short game drive on arrival. The best airline to use to get to Lusaka is Zambian Airways.
When to Go:
Visit during the dry season from July to November, which is in effect mid-winter through to spring. Temperatures are usually warm in the day but can get very cold at night and in the early morning. The nearer you get to the summer months the hotter it gets, until by October and November it is heading past 30°C. Humidity arrives with the rains from approximately December to April, when it is gets pretty hot and humid.
The Food:
Very tasty food with succulent meats and a good range of vegetables considering how remote you are.  They produce some wonders from their little kitchen.
The rooms:
Six safari tents have hot water shower and are large enough to feel spacious with two people in. They are not tents in the camping sense, and have proper if sparse furniture and clothes storage space.
Activities:
Game drives head out into the varied terrain which has so many biomes that one game drive offers many experiences, night drives often encounter leopards.
These are the views of travel writer Carrie Hampton.

© Carrie Hampton carrieh@iafrica.com

www.travelwriter.co.za