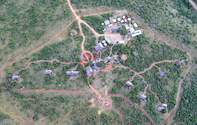 Rhulani Safari Lodge is situated close to the city of Johannesburg yet far enough away for a true bush experience in the Madikwe Game Reserve.
Rhulani Safari Lodge is situated in the malaria-free Madikwe Game Reserve in the North West Province of South Africa and is approximately 3-and-half-hours driving time from Johannesburg and Pretoria.
How to get there
By Air
Madikwe Air Charters provides daily scheduled flights from Grand Central Airport in Johannesburg to Madikwe Game Reserve. The flight departs from Grand Central Airport at 12pm and arrives at 12:50pm. The return flight departs Madikwe at 13pm and arrives at Grand Central Airport at 13:50pm. The scheduled flights are subject to a minimum of 2 passengers on each flight. Transfers from the air strip in Madikwe Game Reserve can be arranged.
Flight times are subject to change and there is a strict baggage allowance of 10kg per person (soft bag). Road transfers between Johannesburg International Airport and Grand Central Airport can be arranged through Madikwe Air Charters. Charter flights from other destinations to the Madikwe Game Reserve can also be arranged.
By Road
There are 2 routes by road from Johannesburg International Airport to Madikwe Game Reserve. The first route (approximately 3.5 hours driving time) travels via Sun City that travels over approximately 90km (55.9 miles) of gravel road. The second route (about 5 hours driving time) travels via the towns of Rustenburg and Zeerust.
Private Aircraft
Madikwe Game Reserve has a 1200 metre, all-weather, gravel airstrip. Transfers to and from the lodge are free of charge. Please note that all private pilots wishing to make use of the Madikwe airstrip must sign a pilot indemnity form before doing so.
GPS Co-ordinates
24:44:00 S
26:24:27 E
Elevation: 3200 Ft
Runway direction: East/West 11/290