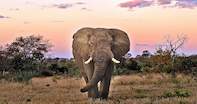 This 3 Day Wilderness Adventure Safari with chalet accommodation and game excursions will give you the opportunity to spot the big five and relax in the laid-back setting known as Kruger Park.
Accommodation: Basic En-suite with air conditioning
Destinations: Johannesburg, Kruger National Park, Johannesburg
Activities: Morning and sunset game drives, game viewing, bushwalk
Your South Africa Safari Experience
This quick getaway is ideal for a close-knit group of friends or family who want a break from urban living. The chalet is situated in Skukuza, Kruger Park near the Sabi River and it is renowned for its concentration of cheetah. The tranquility of the bush provides puts you at ease and allows you to kickback and relax.
This pleasing adventure includes 500 bird species, 147 mammals and 114 reptiles waiting to be explored. You will be accommodated in a chalet with amenities that include an en-suite, mini fridge and air conditioning. Embark on adventurous morning and evening game drives to spot the Big Five and other wildlife. Enjoy nearby facilities such as curio shops and the Skukuza Museum.
Day 1: Johannesburg - Kruger National Park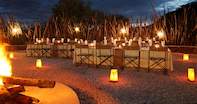 A representative will pick you up and escort you to Skukuza Rest Camp. Enjoy scenic views of the plains of the Highveld and Lowveld as you make your way to your destination. Make a quick stop for lunch before continuing your journey to the lodge. Make yourself at home in your chalet accommodation, with linen bed sheets and cotton towels.

Enjoy amenities that include a mini fridge and air conditioning. Embark on an adventurous sunset drive in a specialized safari vehicle and spot a few nocturnal animals with the help of your game guide. Your ranger will share his bush knowledge with you to make the experience memorable and educational.

Indulge a delicious three course meal paired with fine wine that will cater your dietary requirements, served at the private Skukuza Restcamp. Doze off in your cozy chalet.
Day 2: Kruger National Park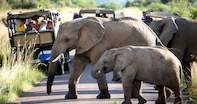 An early morning wake up call will indicate the start of a new day. Get ready to head out to the bush to spot a profusion of wildlife. Sip on tea or coffee and nibble biscuits to revive before your morning game viewing adventure in a specialized safari vehicle. Game track your way through the bush as you spot a an abundance of fauna and flora.

The morning is known to be the best time to spot predators. You might see lion, wild dog and hyena. Your guide's bush knowledge will make it a memorable sightseeing adventure. After a morning of game tracking, sit down and enjoy a hearty breakfast. Take a rejuvenating swim in the pool and enjoy an afternoon of siesta.

Go on a birdwatching adventure and spot some of Skukuza's rich bird species. Pay a visit to the Skukuza Museum and learn all about the rich history of the Kruger Park. Enjoy a late afternoon game safari to spot the rich wildlife of the park. Enjoy and share your experience around the campfire and enjoy a deliciously cooked meal.
Day 3: Kruger National Park - Johannesburg
On your last day, go on a final morning game excursion and seek animal species that you have missed on previous occasions. This will be your final chance to spot the Big Five. Head back to camp and enjoy a hearty breakfast before packing your bags to meet a representative who will escort you to meet your onward travelling arrangements.