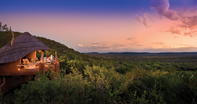 Experience a malaria-free South Africa safari in Madikwe Game Reserve, showcasing spectacular wildlife and beautiful landscapes.
There are many legendary safari destinations on the continent but recently others have become part of African safari legend and a South Africa safari in Madikwe Game Reserve is right up there with the best on the continent when it comes to showcasing the wonders of Africa.
The guides of Madikwe Game Reserve have a special affinity with the territory and ensure that activities are filled with fascinating sightings and stories.
Madikwe Game Reserve was born out of an idea to reclaim farming land that had been all but destroyed and a grand scheme to restock the area with wildlife was instituted. Operation Phoenix as the restocking program was known as was, and still is today, the largest translocation of wildlife on earth and the guides ensure that guests become part of the magic that is Madikwe.
Madikwe Safari Lodges
These Madikwe Game Reserve safari lodges offer luxury accommodation, excellent facilities and superb Big Five wildlife safari activities.
Madikwe Safari Package Holidays
This selection of Madikwe Safari Package Holidays in South Africa can all be customized to suit your needs and budget.
Game drives in Madikwe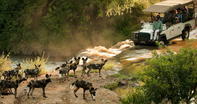 Game drives in 4x4 vehicles are the best way to cover as much territory as possible and have the best chance possible of seeing the great diversity of Madikwe. The
Big Five is often seen
on a South Africa safari in Madikwe Game Reserve and there is also the opportunity to see the endangered African Wild Dog - a Madikwe speciality.
The experienced guides ensure that game drive activities are filled with interesting facts and information about the area and the wildlife that is seen. The afternoon drives in Madikwe often stretch into evening when the nocturnal creatures of Africa can be seen going about their business.
Read more about Game viewing in Madikwe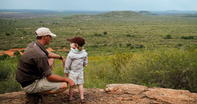 Madikwe is a malaria-free safari destination. Many of the lodges offer safari activities for children including short game drives and mini-rangers courses, making this an excellent family safari holiday.
Travelling in Africa with children can be very daunting, and at times very frustrating, and with the threat of malaria thrown into the mix many families choose what is perceived to be an easier and less stressful holiday option but with a Madikwe safari all the uncertainties can be laid to rest.
Dedicated kiddies game drives are guided by specially trained guides and the lodges provide fun educational entertainment for the kids, allowing the parents to relax and enjoy themselves.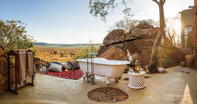 Imagine getting married in a scenic spot in the middle of the African bush. Take your loved one on a honeymoon safari in the heart of Madikwe Game Reserve, for an unforgettable romantic escape.
Madikwe Game Reserve's proximity to Johannesburg and Pretoria makes it an ideal choice of destination for short South African safari get-aways. Take the long weekend off for an exceptional safari experience.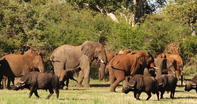 What could be better than escaping the stress of everyday life and going on a
self-drive safari in Madikwe Game Reserve
, combining comfortable bush accommodation with thrilling game drives led by specialist guides. Read more on
Getting to Madikwe
Bird-watching & Cultural Interaction
Besides the game drives, bird watching around the camp is a popular activity in Madikwe, with some lodges offering
cultural interactions
with local communities on the park borders. Some of the lodges also offer short walks to allow guests to appreciate nature up close.
Star Gazing
Many of the guides and lodge staff are passionate about the night sky and are only too happy to
share their stargazing knowledge
. Bush breakfasts and dinners, as well as sleep-outs are part of the activities programme on a South Africa safari in Madikwe Game Reserve.