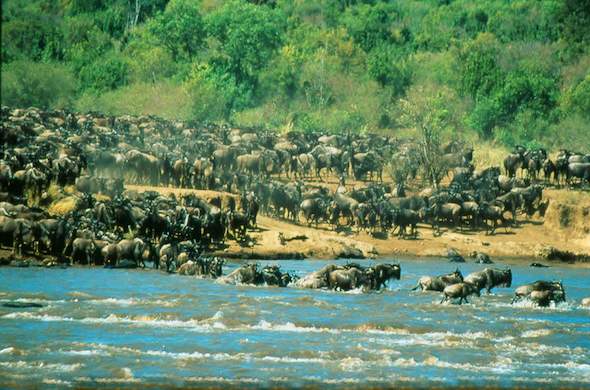 Sarova Mara Game Camp offers some of the most unforgettable safari experiences. Enjoy balloon flights over the Mara, game drives in search of the Big Five, and fabulous bush dining options during your vacation in Kenya.
Activities at Sarova Mara Game Camp
Bird watching
Mini Golf
Sports Fishing
Library and Board Games
Wellness Area
Herb Garden Visit
Conferences
This Kenya safari lodge has conference facilities that can cater for a maximum of 80 delegates in comfort and style. Standard equipment includes overhead projector with screen, TV and Video, flip chart, board, writing pads and pens.
Weddings
This Masai Mara safari camp in Kenya is the ideal location for an African-inspired wedding. The friendly staff at the camp is trained to organize ceremonies and ensure that everything goes according to plan.
Bush dining
Whether it's a Champagne breakfast in the bush, lunch picnic in a remote spot in the bush, a sociable barbecue dinner or boma feast, or a romantic starlit dinner, bush dining is a memorable experience.
Game Drives
No visit to the African bush is complete without participating in at least one exciting and informative game drive. Search for the famous Big Five animals as you journey across the open savannah in the comfort and safety of state of the art safari vehicles during your vacation in Kenya.
Walking Safaris
There are numerous short walk excursions conducted in the nature trails within Sarova Mara Game Camp. These walks concentrate on the profuse bird life and rich and diverse vegetation of the area. There is also a selection of longer walks available that concentrate on the wildlife, birdlife and plant life of the Masai Mara.
Isokon Maasai Cultural Village
Learn more about the interesting traditions and culture of the Maasai people. This interaction presentation offers an insightful and intimate look into the lives of these native people as an elder educates you on the heritage of this unchanging culture.
Balloon Rides
An optional hot air balloon ride is the most spectacular way to discover the beauty of the Masai Mara, and is a lovely alternative to a game drive. Take off as the sun rises above the African landscape and get a bird's eye view of Africa waking up.