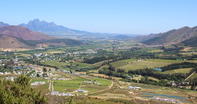 © Ann Gadd
The Cape Winelands is made up by various towns and is located in the Boland region of the Western Province, South Africa. The towns of the Cape Winelands, which include Stellenbosch, Paarl and Franschhoek, have a rich history, that can be observed in the unique and old-worldly buildings. The area can be accessed by road and air transfers.
At the Cape Winelands, stunning Cape Dutch, Georgian and Victorian architecture are lined up in the leafy streets of the main towns. The Cape Winelands can be seen as the food and wine district of South Africa, for hosting a large number of award-winning wine producing farms and restaurants. Breathtaking views of the vineyards and Table Mountain as a backdrop, sets the scene for a luxurious and tranquil getaway.
Cape Winelands accommodation in Western Cape is offered at luxury boutique hotels and wine estates. Activities in the Cape Winelands include wine tasting, vineyard tours, food and wine tasting, hot-air ballooning, microlighting, and many more, See below for South African safari combinations with the Cape Winelands.
A deluxe South Africa safari takes you to the wildlife of the Thornybush Private Game Reserve and the Cape Winelands of Franschhoek for a 6 day vacation...
more
This premier vacation in South Africa takes you to the wildlife-rich Kruger Park, Franschhoek in the Cape Winelands and the untainted beach wilderness of Hermanus...
more