Where Wild Dogs Hunt | Travel Guide to Moremi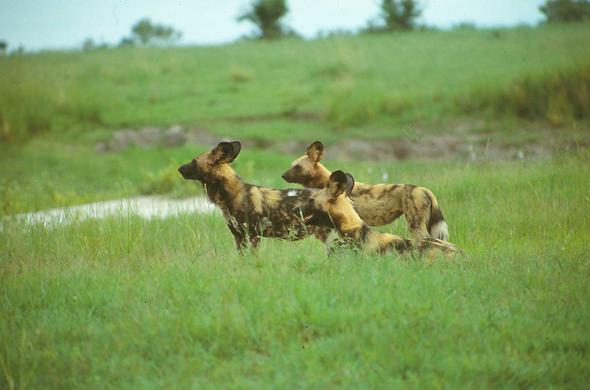 Home to huge herds of Elephant and large packs of African Wild Dog, the Moremi Game Reserve is located in Botswana's Okavango Delta and is a popular destination for travellers seeking a safari getaway.
The Experience:
Incredible game viewing including the Big Five of the African animal kingdom and wonderful sightings of endangered Wild Dog is what awaits you when you plan a safari holiday to Moremi Game Reserve. Knowledgeable guides take you out on guided game viewing excursions to find the excellent sightings of Leopards in trees or a pride of Lion hunting Buffalo. Back at your luxurious camp welcoming and attentive staff ensure that your experience in one of Botswana's top safari destinations is one you will always look back on with wonderful memories.
Accommodation Options
These vary according to the safari package you select. Spacious tented rooms, elegant canvas tents and luxurious bush pavilions are all available as options while staying in the magnificent Moremi game reserve.
Highlights
A visit to Moremi Game Reserve is filled with many highlights. The scenic beauty of the area, located within the Okavango Delta will take your breath away and avid photographers will be able to capture many wonderful vistas and wildlife shots.
The landscape is an array of constantly changing environments from large lagoons and seasonal floodplains to riverine forests and wooded islands, all providing a wonderful backdrop to the game viewing experiences that abound.
With a small number of lodges in the reserve, the Moremi area of the Okavango Delta is considered to be home to some of the best game viewing areas within the Delta including Chief's Island, Mombo, Xaxanaxa and Khwai. Known as one of the most beautiful game reserves in Africa, each area offers different environments and unique game viewing experiences.
Activities
There are abundant activities available, for visitors to enjoy while exploring the Moremi Game Reserve. As the reserve is situated within the Okavango Delta, all of the activities that are available to safari goers in the Delta are also available while staying at one of the Moremi safari lodges.
4X4 game drives are a popular activity while visiting the nature reserve and are an excellent way to view a number of wild animals including Lion, Wild Dog and a variety of antelope. For a unique game viewing excursion visitors can embark on a boat trip out across the waters in search of wildlife. A game viewing boat trip offers aa new and exciting vantage point from which to view the animals coming down to the river banks to drink.
A mokoro boat trip to Chiefs Island provides great insight into the staggering diversity of plants and wildlife found in the area. Avid photographers won't know which direction to aim their lenses at first with beautiful scenes in every direction. The wide variety of eco systems in the area also attract a wonderful array of birds and bird watchers will be able to see a number of different birds from an abundance of different species and habitats. Visitors may also want to try a scenic helicopter trip over the Delta.
Access
The easiest way to access Moremi Game Reserve is by a chartered light aircraft flight that can land at the safari lodge or a nearby airstrip. Alternatively 4X4 vehicles can access the reserve by road from Maun or through the Chobe National Park in the north. The roads are generally made of loose sand and can be in a very poor condition especially after the rainy season.
From Botswana's tourism capital - the frontier town of Maun, one can drive up to Moremi. The road starts as a well maintained tarred road and then becomes a gravel road after Shorobe and finally turns to sandy 4X4 country once through the veterinary control fence. A self-drive from Maun to Moremi is highly enjoyable but advised only for extremely experienced 4X4 drivers during the wetter months.
Airport
Most Siyabona Africa tours are fly-in packages. Visitors to the Moremi Game Reserve will fly from Johannesburg to Maun and then, by light aircraft over the Okavango Delta to their Moremi lodge or camp.
Climate
Botswana experiences only two seasons; a dry season and a rain season. The dry season is however unique in that it is during this period that the Okavango has its highest water levels, as it takes 6 months for the water to reach the Delta from the Angola highlands, and thus there is more water in the area than most other areas.
The later period of the dry season is considered the best time to visit the reserve as this is when the Okavango is at its highest levels and large herds of wildlife can be seen in the northern parts of the reserve, especially along the Khwai River and game viewing along the riverbanks and waterways is highly rewarding.
Bird watching is also at its best during this period as the migrant species have all arrived and many of the nesting pairs young have hatched and are feeding.