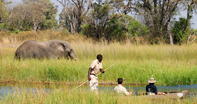 Moremi Game Reserve is located in the eastern slopes of the Okavango Delta in Botswana and is the first reserve of Africa that was established by the local people. Floodplains, mopane woodlands, lagoons, and acacia forests makes up the natural surroundings of the untouched Moremi Game Reserve, which can be accessed by an air or road transfer.
Wildlife freely roams the Moremi Game Reserve. Among the spectacular creatures that can be spotted in include the Big Five - leopard, lion, buffalo, elephant, and rhino, as well as hyena, warthog, hippo and crocodile.
Moremi Reserve also has a magnificent bird population that includes forest dwellers, and water birds just to name a few. Daily game drives, bush walking safaris, motor boat adventures are all among the Moremi Game Reserve Botswana safaris experience.
See below for Moremi Game Reserve safari recommendations.