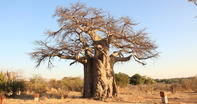 © Ann Gadd
Kasane is located on the south bank of the Chobe River in Botswana and is close to the Four Corners of Africa, where four African countries - Botswana, Namibia, Zambia and Zimbabwe - meet. Kasane is easily accessible by road and air transfers. The airport in Kasane is serviced with regular flights from Johannesburg, making travelling from other countries for an African safari easy. Kasane is the perfect base destination for those who want to travel to Zambia, Zimbabwe and Namibia.
Kasane is the gateway to travelling to Chobe National Park. The best times of the day for game viewing at this Botswana safari destination is early in the morning and late in the afternoon - a game drive in the morning and an afternoon boat cruise is advised. Fishing, ferry rides and village tours are among the many ways to explore this town.
Kasane attractions include Lake Liambezi, Lesoma Memorial Monument, Kasane Hot Springs, Soboba Water Rapids and Recreational Park, Crocodile Farm, Maikaelelo Forest Reserve Sibuyu Forest Reserve, Kazungula Ferry and Kasane Forest Reserve. Below are Kasane accommodation suggestions and safaris starting or ending in Kasane.