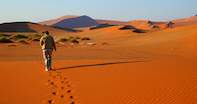 Namibia Safari Tours take you on a journey of the soul. Through the ancient drama of the world's oldest desert to the wildlife of Etosha National Park, Africa talks to you and the silence is broken only by your thoughts.
A country of vivid contradictions and stark beauty, where undulating desert tumble over towering dunes to meet a tempestuous coastline. This is the 'Country of Contrasts' and consists of diverse landscapes, unique people, big vistas, ample sunshine and a considerable amount of wildlife.
The dry, hot coastline meets the icy waters of the Atlantic creating a spectacular ecology not seen elsewhere in the world. These explorer-type tours offer wildlife and superb scenery.
Highlights of Namibia Tours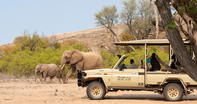 Discover the Sossusvlei dunes, meet the San bushmen, and travel by 4x4 across Caprivi, to Victoria Falls. See wildlife on game drives. These Namibia tours are designed to show-case the Namibian safari experience.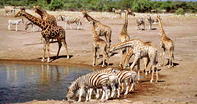 With all its waterholes, Etosha National Park is often the only source of water for miles. Attracting elephant herds, lion, hyena and flamingo, this is a most rewarding game viewing destination in Namibia.
A self-drive Namibia tour is ideal if you are the traveller who likes to discover at your own pace. A well-established road network provides access to most attractions, with a standard vehicle, but really, a 4x4 is the best option. See our Namibia Self-drive Tips.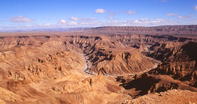 Take a hike through the magnificent Fish River Canyon located in the south of Namibia. Explore the narrow gorges and natural springs and marvel at the spectacular views of the canyons.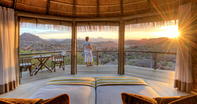 Our selection of
Namibia Safari Lodges
are located in private game reserves or near the wildlife-rich Etosha National Park. Lodges in Sossusvlei and the Namib Desert offer game viewing plus extra activities revolving around the spectacular landscape and sand dunes.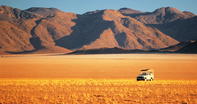 Namibia is considered to be a year round destination; however there is a peak season. It depends what you are coming to see and do. These unique semi-desert landscapes offer spectacular wilderness scenery and a sense of absolute isolation.
Learn about Namibia's seasons in our Namibia Travel Guide including the Best Time to Visit Namibia
Start Planning Your Namibia Safari