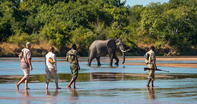 Zambia Safari Tours and safari lodges offer great appeal for those who want to experience the real Africa. The wilderness and rugged beauty of Zambia's wildlife sanctuaries attract many adventurous souls.
Favourite stalking grounds for the avid Zambia safari enthusiast are the wildlife reserves of South Luangwa and Kafue National Park, while the Lower Zambezi Valley is a tapestry of waterways, and magnificent fauna and flora.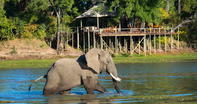 With a selection of luxury tented camps and Zambia safari lodges, you will have a base from which to explore all this African safari destination has to offer. Popular Zambia safari lodge locations include
South Luangwa
,
Lower Zambezi National Park
,
Kafue
,
Zambezi River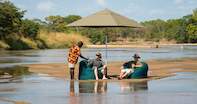 ©(c)Dana Allen
Our recommended
Zambia Safari Tours
offer the best safari experiences combined with Victoria Falls or activities along the Zambezi River. We can customize any tour to suit your preferences and create an amazing safari in Zambia just for you.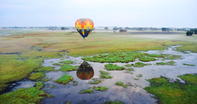 Kafue National Park
is the oldest and largest national park in Zambia. Renowned for its wildlife which includes 4 of the Big 5 (Leopard, Lion, Elephant, Buffalo) and prolific bird life. Activities include day and night game drives, boating, hot air balloon safaris and walking safaris.
South Luangwa National Park
is where the walking safari was born. Experience the art of combining comfortable bush accommodation with thrilling Zambia walking safaris led by specialist guides. As one of Africa's greatest wildlife havens, you can experience amazing wildlife viewings.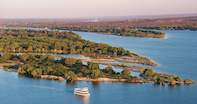 Zambezi River Tours
From the drifting, tranquility aboard the river boat, African Queen, or on foot in the company of park rangers, you can appreciate the vastly differing perspectives of a Zambian safari along the Zambezi River.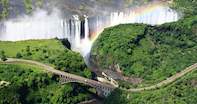 The majestic Victoria Falls straddle the border between Zambia and Zimbabwe. It is one of the Wonders of the World and proves to be a highlight on any Zambia safari. See our selection of Livingstone Victoria Falls hotels
Experience a Zambia wildlife safari combined with a visit to the mighty Vic Falls.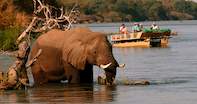 The beauty of the
Lower Zambezi National Park
is its state of absolute wilderness. Lying in the Lower Zambezi Valley between the rolling hills of the hazy escarpment and the Zambezi River, it is sprinkled with reed islands, which are home and feeding ground for many animals.
Map of Zambia
If you are planning on driving yourself you may want to familiarize yourself with the locations of the various national parks and areas using this useful
Map of Zambia
. Road transfers or flights are included in most of our Zambia package holidays.
Best Time to Visit Zambia
The best time to visit Zambia is dependent upon which area of the country you are heading for, as weather patterns vary over diastance. The information is offered as a guideline, as weather patterns and wildlife rhythms are never predictable and can never be guaranteed at a specific time or in a specific area.
Speak to our Siyabona Destination Sepcialists for advice on the best time for a Zambia safari tour.
Start Planning Your Zambia Safari