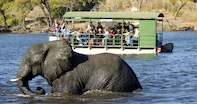 The Best of the Personal Botswana Safari Experience. These quintessential Botswana safari tours by Siyabona Africa let you discover the best of Botswana, a year round wildlife safari haven that promises you a unique and memorable Botswana safari experience.
These tours include awesome land and water safaris, as well as spectacular birding. A mere 2 hour flight out of Cape Town, or Johannesburg, will see you on one of these select Botswana safari tours, and the African safari lodges and tented camps they visit.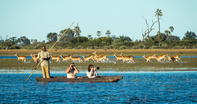 Selected for the diversity of environments these Botswana safaris highlight the variety and contrasts of Botswana. From rivers edge, to wooded savanna, to the serene lush waterways of the Okavango Delta. Witness wildlife on game viewing activities.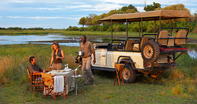 Make your romantic escape with a Botswana honeymoon safari, or a small deviation from your current holiday... or even add it on to the end of your trip. It all starts in the Okavango. The wonder and mystery awaits.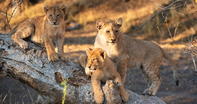 Incredible game viewing, including the Big Five. From the serene Okavango to the meandering Chobe River, your Botswana family safari tours offer fun activities for the kids where they can learn about Botswana's wildlife and see it up close.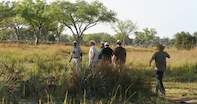 Take a Botswana camping safari, from the lush Okavango Delta and Moremi, to the semi-arid landscapes of the Kalahari and Makgadikgadi. Accompanied by an expert tracker and serviced mobile camp.
Best Time to Travel
Botswana is a year round safari destination. That said, as the weather changes animal and bird behaviour changes. Basically, what ever you want to see or do will depend on the time of year. So have a look at our
Best Time To Travel
guide.
Start Planning Your Botswana Safari