Tanzania safari tours take you on a voyage through legends and the intrepid explorers of the past. Tanzania, the largest country in East Africa, offers possibly the ultimate exotic adventure, in a spectacular world.
Legendary names such as Serengeti, Kilimanjaro and Ngorongoro evoke ancient memory and instill awe. Tanzania's National Parks are working to conserve one of the highest concentrations of African wildlife on the planet where millions of animals roam an eternal grassland.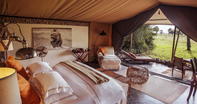 Find Tanzania Safari Lodges and camps in popular African safari areas including Serengeti, Selous, Arusha, Ngorongoro Crater, Tarangire and Ruaha.
Choose accommodation from luxury lodges and tented camps to more rustic Tanzania safari camps. All safari lodges can be packaged with flights, transfers and combined with other Tanzania safari lodges to create a tailor-made Tanzania safari tour and package holiday.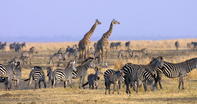 To experience the best of what Tanzania has to offer, we have selected these
Tanzania safari tours
ranging from accommodation in luxury safari lodges to camping out on mobile safaris where you cover a large section of the country by vehicle. Choose from themed Tanzania Safari Packages including, romance, family, relaxing, cultural and best of packages.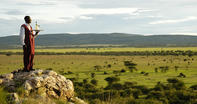 Want to do some research before booking your Tanzania safari ? Consult our Tanzania Safari Guide to learn more about the best Tanzania safari destinations, not to be missed experiences, reviews more. and the The Great Wildebeest Migration is a year round cycle.
Read about Tanzania's climate and the best time to visit the Serengeti in order to witness this incredible wildlife spectacle.
Customize your Tanzania Safari Holiday
If you would like to have a customized, tailor-made package tour created exclusively for you, speak to your expert
Siyabona Africa Destination Specialist
about your requirements. These can include
hot-air ballooning over the Serengeti
, swimming with Dolphins off the Island of Lamu and snorkelling and scuba diving around the coral reefs of nearby Pemba and Mafia Island.
Start Planning Your Tanzania Safari