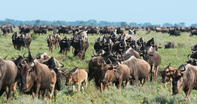 The Serengeti National Park, proclaimed the 7th wonder of the world, is the largest and most popular park in Tanzania and is renowned for its spectacular wildebeest and zebra migration. Serengeti National Park is teaming with stunning wildlife and it is thought that over 3 million large mammals cross the plains for fresh grazing areas.
From May to July you can witness the annual great migration of millions of Zebra and Wildebeest in search of water and forage as the seasons change. However, the rest of the year the park is still one of the most prolific areas for exceptional game viewing. The vast and wonderful park can be accessed by road or air transfers.
The park is home to abundant predators - a high density of cheetahs on the south eastern plains, solitary leopards along the Seronera river and lions predating the open plains. All three jackal species occur, as well as the Spotted Hyena. Apart from the wildebeest and zebra migration, an abundance of crocodile can also be spotted in the park.
Wildlife that freely roam the Serengeti National Park includes elephant, rhino, lion, leopard, buffalo, giraffe and cheetah. The Serengeti National Park is home to over 500 species of bird that includes ostrich, crowned crane, martial eagle and secretary bird.
The endless expanse of space, specie diversity and ecosystem variety make this a once in a life time Tanzania safari experience. Serengeti National Park accommodation is offered at luxury Tanzania safari lodges.
Activities in Serengeti National Park safaris includes game drives, excursions to witness the migration, village tours, microlight flights and bush walking safaris.