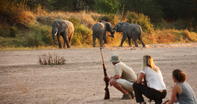 Ruaha National Park is located in central Tanzania and is the largest park in the country. The scenic views and wildlife adds to the allure of Ruaha National Park. Access to this park in Tanzania is by road and air transfers.
Renowned for being the biggest park and having the best wildlife in all of Tanzania, Ruaha National Park should be included in the ultimate Tanzania safari. Wildlife at the park includes wild dog, leopard, cheetah, giraffe, eland, zebra, impala and many more.
The birdlife of Ruaha National Park is just wonderful and bird enthusiasts can expect to see some of the 517 different species of bird. The best time for a birding safari is during the wet season.
Ruaha National Park accommodation in Tanzania is offered at safari lodges. Activities in Ruaha National Park include game viewing, bush walking safaris and birdwatching.
See below for Ruaha National Park safari in Tanzania recommendations.