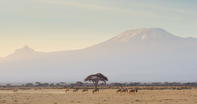 © Shem Compion
Kilimanjaro is a giant volcanic mountain located in Tanzania, and comprises of 3 distinct volcanic cones. This spectacular natural wonder is the highest mountain peak in all of Africa, and access to Kilimanjaro is by road and air transfers.
Thousands of tourist flock to Tanzania in attempt to climb Mount Kilimanjaro, so the area is not a secluded African destination but it is one of the finest and most popular. Kilimanjaro is easy to climb with or without equipment, and many climbers easily reach the crater.
There's much more to Kilimanjaro than the great volcanic mountain - the area inhabits spectacular species of wildlife including leopard, elephant, buffalo, and Abbot's Duiker. Kilimanjaro accommodation in Tanzania is offered at mountain lodges. Activities in Kilimanjaro includes hiking, mountain climbing and game viewing.
See below for Kilimanjaro Safari in Tanzania recommendations.
For the most unique Tanzania safari lodge experience a stay at Kambi Ya Tembo will provide an unmatched cultural wilderness in the shadows of Kilimanjaro...
more
This classic 3 day Kilimanjaro tour offers a glimpse of Tanzania and in-depth interaction with the culturally-unique Masai people as you navigate...
more