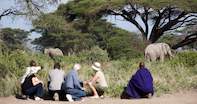 This classic 3 day Kilimanjaro tour offers a glimpse of Tanzania and in-depth interaction with the culturally-unique Masai people as you navigate through the striking landscapes.
Tanzania Safari Package Experience
Accommodation: Private tented safari suite
Activities: Masai village and boma visit, Kilimanjaro National Park hike, guided walk with a Masai guide
Destinations: Kilimanjaro
What to Expect on this Cultural Tanzania Safari Tour
This brief venture into Tanzania offers cultural interaction with the Maasai tribe and a venture into the wilderness of Kilimanjaro National Park. Be intrigued by the simplicity of the tribe as you listen to the tales behind their lifestyle choices. Experience this meaningful culture as you are introduced to their unique attire, rituals and traditional ceremonies. Listen to the native languages of Tanzania as you witness authentic conversations.
The region is home to the unique bull elephant species and prides itself as being one of the most balanced elephant populations in Africa. Venture out into this supreme wildlife region on a game drive or a walking safari - each excursion boasting its own unique sightings of the fauna and flora.
Day 1: Kilimanjaro Airport
Upon arrival at Kilimanjaro Airport, you will be met by a representative who will drive you to Kambi Ya Tembo Lodge. Here you will stay for the duration of your trip in the Kilimanjaro region. At the lodge, you will be welcomed into a private tented safari suite that has an en-suite bathroom with a built-in shower and boasts views of the endless savannah plains from a private veranda.
The lodge is situated on the edge of the Amboseli National Park, with views of the Amboseli flood plains, Kilimanjaro and Mount Meru peaks. The main lodge area has an expansive open air deck where alfresco meals can be enjoyed around a comforting camp fire.
Game drives in the Amboseli National Park take place alongside a trained guide in a specialized safari vehicle. The early morning drive lasts for approximately 2 - 3 hours. A trip to a local Maasai village in the late afternoon will introduce you to a new culture whose lifestyle remains unaltered, despite the changing times. The Maasai tribe maintains a simple lifestyle, following traditional ceremonies and clothed in colourful and decorative attire. Kambi Ya Tembo has formed a unique bond with the local people, who do not usually interact with tourists, through a community conservation project.
Adore the last few hours in the presence of a descending sun as you watch it disappear into the distant horizon. Indulge in sundowner cocktails and snacks as you witness this spectacular natural occurrence.
Day 2: Kilimanjaro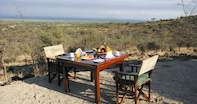 Today you will spend approximately 5 hours in the vast wilderness as you take a hike within the Kilimanjaro National Park. After breakfast, you will depart from the camp in a road transfer of about 45 minutes which will lead you to the Londorossi entrance gate to the park. Stop for a bush picnic as you indulge in a pre-packed lunchtime treat.
Mount Kilimanjaro is the highest peak in Africa, providing amazing views from its summit as well as from its foot. Navigate along the paths through the montane forest where you can spot elephants, buffalos, small antelope and primates and possibly a leopard. Make sure you embark on this journey prepared with comfortable walking shoes, warm clothes and photographic equipment to capture the unforgettable moments.
Day 3: Kilimanjaro Airport
About two hours will be spent alongside a trained Masai guide as you embark on a guided walk in the wilderness surrounding Kambi Ya Tembo. Listen to story-telling by your guide as he educates you on the historical aspects of the region.
Enjoy a freshly prepared meal served either indoors or outdoors, or request a bush picnic on a remote outdoor location with a view of the snow-capped peaks of Kilimanjaro. A road transfer to Kilimanjaro Airport will mark the end of your brief visit to the Tanzanian contours. At the airport, you will continue with your onward travel arrangements.
Included
2 Nights' accommodation
All meals
Selected beverages including tea and coffee
Masai village and boma visit
Park fees
Road transfer to and from Kilimanjaro Airport to lodge
Not Included:
Premium brand beverages
Items of a personal nature
International flights