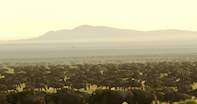 Migrate across the landscapes of Tarangire, Ngorongoro, Serengeti and Zanzibar on this extensive premier 12 day Tanzania safari tour.
Feel the earth vibrating from thousands of hoofs thundering across the plains, watch in awe at the fantastic spectacle of vast plains filled with the moving mass of wildebeest, zebra and gazelle. Witness the great migration, one of nature's greatest wonders in Africa.
Tanzania Safari Tour Highlights
Visit classical safari destinations, staying in luxurious camps
Witness the Great Migration, and experience Africa in her full glory
Explore Tanzania on this spectacular flying safari
Enjoy personalised service with private tent attendants at each camp
Relax in splendour and comfort on Zanzibar Island
Your Safari Experience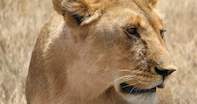 Right from the start of this safari, you can immerse yourself into the history and culture of Tanzania. The safari starts in Arusha, where your flight originates to go to Tarangire National Park. Tarangire, famed for its spectacular baobabs and elephant migration offers excellent safari experiences. During July to October, due to its permanent water source, Tarangire hosts high concentrations of animals all trying to slacken their thirst.
Onto Ngorongoro where thrilling game drives are conducted inside the crater and around the rim. Year round this area is full of wildebeest, zebra, rhino, eland and elephants. Then, of course, there are all the predators including lion, hyena, cheetah, leopard and jackals.
Moving next, on to the iconic Serengeti, one of the oldest ecosystems on earth. Here you will witness the enormous biomass known as the great migration. The great migration is a ceaseless cycle of wildebeest, zebra and gazelle moving from area to area continually feeding and searching for water. The camp we have chosen for your safari also moves with the migration ensuring a front row seat.
From the great open plains of the Serengeti to the white sandy beaches of Zanzibar, where you have some time to relax, rewind, feel the breeze on your face and dip your toes in the Indian Ocean.
Day 1 - 2: Traverse Tarangire National Park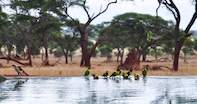 From Arusha Airport, board your flight to Tarangire Airstrip. Here you will be met and driven to the camp, situated in a secluded part of the Tarangire National Park.
Welcoming you in utmost luxury is your personal attendant, who is available to serve your meals on your private veranda, where you can enjoy views of the waterhole. Alternatively visit the main dining area, placed on an elevated deck providing excellent views of the plains.
Relax in the infinity pool as you monitor the waterhole for wildlife visits. Explore the riverbanks on game drives, where most of the game concentrates for some fantastic photo opportunities. Indulge in delicious bush breakfasts, picnics and dinners and try some traditional Swahili fare.
Optional activities of guided game walks and night drives are available here, allowing you to extend your game viewing opportunities and see the wild animals from a different perspective.
Day 3 - 4: Explore the Ngorongoro Crater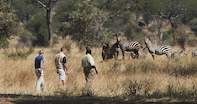 Say goodbye to Tarangire as you make your way to the Ngorongoro Conservation Area via a short 20-minute flight to Lake Manyara. From here, you will be driven to Ngorongoro Crater Area, which takes around 45 mins to the main gate and then an hour game driving to the camp.
This intimate, small camp provides the perfect base to tour the Ngorongoro Crater area inside the crater and around the rim.
Game drives are taken early in the morning and late afternoon to maximise the sensational game viewing and to observe the animal's behaviour. A nearby Maasai village can be visited, where guests can enjoy mixing with the traditional and authentic Maasai and share in some of their daily activities.
Day 5 - 8: Follow the Migration in the Serengeti National Park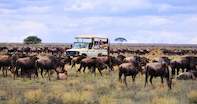 A light aircraft will deliver you to the Serengeti, where your journey continues. Depending on the location of the migration movement, the camp will be where the action is, allowing fantastic migration viewing all year round.
Stay in complete luxury, satiate your taste buds with scrumptious meals and be pampered by your personal tent attendant. Go on game drives with experienced guides that know every inch of the Serengeti.
The game drives focus on the migration and the predators that prey on the young, lame and old in these vast herds. Be a spectator to Africa's raw savagery, beauty and survival.
This Great Migration Safari in Tanzania offers sublime, fascinating and sometimes heart wrenching scenes depicting nature at her cruellest and merciful.
Day 9 - 11: Relax on Zanzibar Island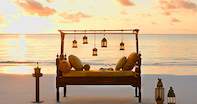 A scheduled flight will deliver you to Zanzibar Airport, from which a shared road transfer will deliver you to your luxury boutique beach hotel. The following 3 nights will be spent on the northwest coast of Zanzibar. Your stay provides you with utmost privacy and convenience and a private butler is available to cater to your needs. Your suite has an en-suite bathroom with a rainfall shower as well as its own plunge pool and sun terrace.
Relax and be pampered in the tranquil comfort of the spa. Spend your afternoons at leisure, sipping cocktails while reclining on the pristine white beach or frolicking in the crystal-clear waters of the Indian Ocean.
Activities include kayaking and snorkelling. In addition to these included activities, you have the option to partake in a wide range of water-based activities and day trips to Jozani Forest and Stone Town.
Day 12: Homeward bound
From Zanzibar Airport, you will board a light aircraft flight to Dar es Salaam ready for your onward travel plans
Included
Flights from Arusha Airport to Tarangire, Ngorongoro, Serengeti, Zanzibar and Dar es Salaam
Shared road transfers to and from airports
8 nights accommodation in luxury tented safari camps
3 nights accommodation in a deluxe pavilion in a luxury beach hotel
All meals including breakfast, lunch and dinner as per itinerary
Local drinks including teas/coffees, soft drinks, local brand beers, local spirits and house wines whilst staying at the safari camps and beach accommodation
Game drives in a shared safari vehicle accompanied by an experienced guide
Snorkelling and kayaking
Laundry services
Emergency medical evacuation
All meet and greet services
Entrance and conservation fees for all reserves as per itinerary
Not Included
Premium drinks and champagne
Optional activities, spa treatments and all other extras to be settled direct.