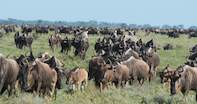 © Shem Compion
The Northern Serengeti region is sandwiched between Kenya and Tanzania, and is a great base destination for an African wildlife safari. The region is ideal for game viewing and can be accessed by road or air transfers.
The Serengeti is renowned for its spectacular wildebeest and zebra migration from the months of June to August. The northern region of the Serengeti is home to an abundant species of game including crocodile, gazelle, impala, eland, lion, cheetah and hyena.
Activities on a Serengeti safari in Tanzania include game drives, bush walking safaris and hot-air ballooning. See below for Serengeti safari recommendations.