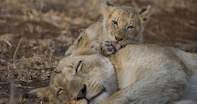 Enjoy a safari in Tanzania designed for a multi-generation family adventure. Stay in exclusive use Serengeti camps that allow the whole family to share in nature experiences and create lasting memories together.
Family Odyssey Highlights
Private guide, all activities are planned and coordinated around the family
Babysitting services available
Mini ranger course for young explorers and for those young at heart, including; game tracking, frogging, butterfly capture and release, a cosmic safari, bush survival skills and nature quizzes.
Private chef and camp staff
Exclusive use of the camps, allowing the family to relax and enjoy themselves. All ages are catered for.
What to Expect on this Serengeti Safari in Tanzania
Start your family safari in an exclusive tented camp, where you can 'rough it' in style and complete comfort. This private use mobile camp is configured to suit each family's needs. With a private guide, chef and camp staff activities are arranged as and when you are ready. Everything is custom made for your family.
Enjoy game drives searching for cheetah, black rhino, buffalo and leopard. Go on walking safaris (minimum age 15 years) learning about animal tracks and plants as you slowly walk taking in the wonderful landscapes around you. Move into a sumptuous private house, a home from home in the bush. Great game watching opportunities, with resident game close by. Watch the elegant gait of the Maasai giraffe as it lopes across the plains. Cool off in the infinity pool after a game of tennis. Observe the children as they become enraptured and entranced by a different world. Visit nearby villages and see the schools and other projects that the camp supports to assist the local community.
Day 1- 3: Serengeti Wilderness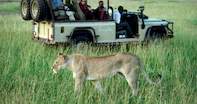 Board a light aircraft from Kilimanjaro International Airport bound for the Serengeti. As you fly over the vast plains look down and see the great herds moving across them. Upon landing, your guide will be there to meet you and transfer you to your private tented camp.
The camp consists of 6 one bedroomed tents, configured to suit your family. Each tent has a bathroom en suite and has all the creature comforts expected from a luxury safari camp. A private chef, camp staff and host allows you to custom make your activities; they can be as long or short as you desire, and even changed on a whim. Spend time with the family, relax and enjoy nature and the wildlife, share experiences and happy memories. Embrace a carefree safari experience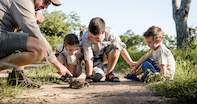 Spend the next few days exploring the wilderness with the family. Join the children as they learn bush crafts, like making a fire using sticks and then toasting marshmallows on their fire. Learn about spoor and track the animals following the spoor. Enjoy game spotting competitions and learning more about the wildlife you see around you.
In the evenings sit around a cosy fire and look up at the stars, go on a cosmic safari as your guide reveals the secrets of the constellations.
Day 4 - 5: Grumeti Safari
After the fun of the wilderness, it's time for a short drive in the Grumeti Conservancy, part of the Serengeti ecosystem, to a private use house, for some extra luxury and pampering, in a remote and wild part of Africa. The house is designed with families in mind, relaxation, comfort and areas for solitude are the order of the day. The house has two suites in the main area and two garden suites on either side, allowing time together and just importantly, an area apart.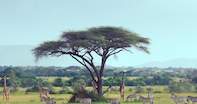 Take game drives, walks and community visits with your private guide explaining the local culture, fauna and flora. Laze around the pool, gaze at the watering hole and observe the different wildlife coming down to drink. Join the children in a round robin on the tennis court, or work out in the gym. This safari is all about the family and allows for adventure and experiences, learning and enjoyment, fun and relaxation.
Day 6: Farewell
Relish the last morning on safari as you bid farewell, and after breakfast head to the airstrip for your flight to Kilimanjaro International Airport for your onward travel arrangements.
Included
Return flights from Kilimanjaro International Airport to Serengeti Grumeti Airstrip
Private road transfers to and from airports
3 nights accommodation in Singita Explore, a private exclusive use luxury safari camp
2 nights accommodation in Singita Serengeti House, a private exclusive use luxury safari camp
All meals including breakfast, lunch and dinner as per itinerary
Local drinks including teas/coffees, soft drinks, local brand beers, local spirits and house wines
Exclusive use of a game vehicle accompanied by an experienced guide
Children activities and community visits
Guided walks
Laundry
Telephone calls
All meet and greet services
Entrance and conservation fees for all reserves as per itinerary
Not Included
Connoisseur wines and champagne
Optional activities, spa treatments and all other extras to be settled direct