Tanzania safari tours caters for all safari ideals: from arguably Africa's most famous and iconic safari names - Serengeti, Ngorongoro and Kilimanjaro - to the wildest and most underdeveloped reserves on the continent - Selous, Ruaha and Katavi...
All our Tanzania safari tours can be customised - Our Destination Experts can craft the perfect Tanzania safari package holiday for you.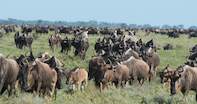 The iconic Serengeti plays host to one of the world's greatest wildlife phenomena in the Great Migration where hundreds of thousands of wildebeest and zebra move across the vast plains. The wildebeest spend a great deal of time in the Serengeti where they give birth on the lush grass of the south. A Serengeti safari tour is more than just the migration - superb year round wildlife viewing make it an excellent choice.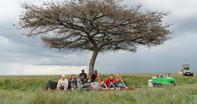 See a selection of our most popular Tanzania safari tours, featuring prime wildlife viewing destinations. If it's the history of Africa that fascinates you, the big game, climbing Africa's highest point or simply enjoying the best in beach holidays then Tanzania offers it all. All our Tanzania pacakge holidays can be customised to your needs, whether it be budget, duration or including a wish list of destinations you want to tick off - let us create the perfect safari tour for you.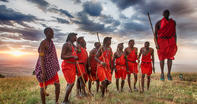 These Path Less Travelled safari tours in Tanzania offer exciting itineraries featuring unique activities and destinations away from the mass tourists. Long in the shadows of the northern circuit, the southern and western parts of Tanzania are proving to be some of Africa's most spectacular wilderness areas. Selous Game Reserve and Ruaha National Park and Katavi National Park offer some of the most rewarding safari experiences on the continent.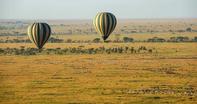 The romance of an East African 'Out of Africa' safari will captivate your soul with a Romantic Tanzania Safari Tour that will linger in your memory. Witness spectacular sunsets over the Serengeti plains, sail away on a hot air balloon, dine under the stars and then end your getaway on the shores of Zanzibar - the Spice Island!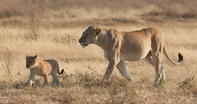 Whether you are looking for a wildlife safari that the whole family can enjoy or an exotic and fun Zanzibar beach holiday, these Family Safari Tours in Tanzania are great options. Or why not speak to one of our Destination Experts to create a tailor-made package to suit your families needs. Safari lodges included will provide exciting activities for the kids, so they can get the most out of their holiday.
Zanzibar Pre and Post Tanzania Safari Tours
With all this it is unbelievable that Tanzania still boasts Africa's highest peak in Kilimanjaro and some of the most beautiful coastline on the continent. The islands of
Zanzibar
, including Pemba and Mafia, offer not only an excellent beach vacation, but also a rich history of Sultans, war and slavery.
Recommended Tanzania Safari Tours