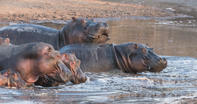 Katavi National Park is a remotely located wildlife park in Tanzania, and the third largest park in the country. The park is easy to access by road and air transfers but is less visited than the other parks, making the experience even more exclusive.
The wildlife of Katavi National Park include herds of Cape buffalo, elephant, crocodile, hippo, giraffe,zebra, impala, reedbuck, lion and hyena. The main wildlife viewing spots are at Katuma River, the floodplains, seasonal rivers of Katavi and Chada. The precipitation season brings an abundance of waterbirds to the lakes, and birding enthusiasts will be in awe.
Katavi National Park accommodation is offered at luxury safari lodges in Tanzania. Activities in Katavi National Park includes game drives, walking safaris, bird watching, and cultural tours.
See below for Katavi National Park safaris in Tanzania.