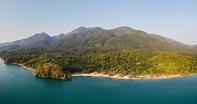 Mahale Mountains National Park is located in western Tanzania and rests on the banks of Lake Tanganyika in the Kigoma Region. The park is renowned for inhabiting the last of Africa's wild chimpanzees and can be accessed by boat, road or air. Only a few tourists visit Mahale Mountains National Park, making the park one of Tanzania's best kept secrets.
Apart from the incredible chimpanzee sightings, leopard, hippo, giraffe, buffalo, lion blue duikers, red-tailed monkeys and red colobus can all be spotted in the park. The park can be explored on foot or by sailing along the shoreline of Mahale.
Mahale Mountains National Park accommodation is offered at luxury lodges in Tanzania. Activities in Mahale Mountains National Park include bush walking, chimpanzee trekking, game viewing and boat cruises.
See below for Mahale Mountains National Parks safaris in Tanzania.