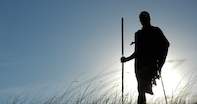 To the west of Mount Kilimanjaro opposite Kenya's Amboseli National Park, lies a somewhat unexplored wilderness which the Maasai call Isinya.
Isinya has all the animals you would expect to find in other East African game reserves, but unlike other parks, there are no roads! This indicates just how wild Isinya is and makes a safari here all the more exhilarating. Stay at Kambi Ya Tembo in Isinya, where the emphasis is on establishing a real connection with the African wilderness.
With the help of Maasai guides and their ancient bush knowledge, you learn about local flora and fauna, medicinal and other uses of plants and how to track animals by their spoor. The secrets of wild Africa are revealed at Isinya for those willing to look and learn.
Isinya Wildlife
Magnificent Mount Kilimanjaro looms over the acacia shade trees of this remote wilderness and provides an alluring backdrop for game drives and bush walks. You should see plenty of Elephants, Giraffes, Buffalo, Zebra, Gazelles, Warthogs, Baboons and large troops of vervet monkeys.
Lions and Leopards are about and coming across their large footprints on a game walk can be spine-tinglingly exciting.
This is Maasai land and you should not pass up the opportunity to visit a Maasai manyatta. This serves to highlight the differences between yours and their culture, lifestyle and priorities and provides interesting food for thought.