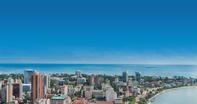 Dar es Salaam is located on the coast of Tanzania. From its humble beginnings as a small fishing village to the largest city in Tanzania, the bustling and vibrant Indian Ocean port of Dar es Salaam or "Harbour of Peace" is a cultural infusion of cultural and historical architecture, with distinct German, British, Arab and Asian influences.
Whilst the city centre of "Dar" is a hubbub of commercial activity with pavement peddlers selling everything from silks to bronze to curious to shells, chaotic mataus, colourful markets displaying African Tingatinga treasures to a lively nightlife scene, the coast fundamentally remains true to its Swahili nature: characteristically laid back, tropical and friendly.
Spend balmy evenings relaxing in a hammock swaying with the cool gentle beach breeze, take a dip in the tranquil ocean or explore the picturesque fishing villages along the coast.
See Tanzania safaris to Dar es Salaam below.