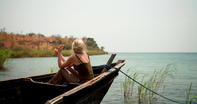 Lake Tanganyika in Tanzania is the longest and second deepest freshwater lake in the world. It is situated on the western border of Tanzania and has 18% of the world's fresh water. The lake is spread across other countries, but Tanzania is host to most of the lake.
Access to Lake Tanganyika is by road and air transfers. About 26 rivers flow into the spectacular Lake Tanganyika. A myriad of fish swim in the spectacular freshwater lake. This Tanzania safari destination boasts up to 280 species of fish that are exported throughout the world. A kaleidoscope of cichlids can be spotted during diving and snorkeling in Lake Tanganyika.
Lake Tanganyika accommodation in Tanzania is offered at luxury lake lodges. Activities in Lake Tanganyika comprises of snorkeling, diving, kayaking, primate trekking and cultural interactions.
See below for recommended Tanzania safaris in Lake Tanganyika.