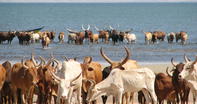 Lake Victoria Tanzania is the largest lake in Africa and is also the largest tropical lake in the world. Access to Lake Victoria Tanzania can be accessed by road or air. The White Nile and the Katonga River flows into this spectacular natural wonder.
Lake Victoria Tanzania is quite a shallow lake that reaches a depth of 84 meters. A few tourists flock to the area for the quirky, local lifestyle. Musoma and Bukoba, lakeside cities, are popular attractions in the area.
The islands near Mwanza and Musoma are ideal for wildlife safaris. A visit to Rubondo Island National Park rounds off an unforgettable Tanzania safari. Lake Victoria Tanzania accommodation is offered at luxury lakeside lodges in Tanzania. Activities in Lake Victoria Tanzania includes nature walks, fly fishing, daily game drives and chimpanzee trekking.
See below for Lake Victoria Tanzania safari experiences.
Rubondo Island Camp is a hidden gem nestled in the lush tropical forests of the southwest corner of Lake Victoria. This untouched haven will deliver you to exciting game viewing experiences...
more