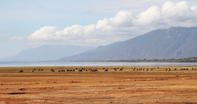 Lake Manyara National Park is situated in the Arusha and Manyara Region of Tanzania, and is one of Tanzania's smaller parks. This national park in Tanzania is easy to access using road transfers. A full day safari is recommended to explore Lake Manyara National Park, to see the best the park has to offer.
Visitors of Lake Manyara National Park often access the park enroute to the Crater as a mini Tanzania safari. Lake Manyara National Park's wildlife comprises of giraffe, zebra, waterbuck, leopard, tree-climbing lion and baboon.
Lying at the base of the Great Rift Valley, the saline lake of Manyara is ideal for bird watching as large flocks of lesser flamingoes, pelicans and yellow billed storks head to the lake as their breeding ground in certain seasons. Lake Manyara is a scenic gem, with a setting extolled by Ernest Hemingway as "the loveliest I had seen in Africa".
The picturesque lake is renowned for its tree climbing lions (a trait caused due to the thick marshy ground), dusty herds of nomadic elephants with exceptional tusks and hundreds of migratory birds that congregate on the shimmering lake surface such as long crested Eagles and Grey-headed kingfishers.
Lake Manyara National Park accommodation is offered at Tanzania game lodges. Activities include game drives, walking safaris, cultural tours, canoeing and fishing.
See below for Lake Manyara National Park safari recommendations in Tanzania.