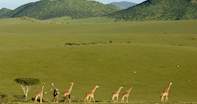 This classic 6 day adventure takes you on a guided road tour through Tanzania, stopping to admire the Ngorongoro Crater, the Serengeti and Lake Manyara.
Tanzania Safari Highlights
Accommodation: Comfortable en-suite rondavel room
Activities: Bush dinner, sundowners on Ngorongoro Crater rim, game drives with spectacular game viewing opportunities, cultural Maasai interactions
Game Viewing: Witness the historic Migration during season, Pink flamingos and tree climbing lions at Lake Manyara, Serengeti and Ngorongoro sightings of wildebeest, zebras, Thompson's gazelle, predators and many more
Destinations: Kilimanjaro, Ngorongoro Conservation Area, Serengeti National Park, Lake Manyara, Kilimanjaro
What to expect on this 6 day Tanzania Safari Tour
Experience the Highlights of Tanzania as you embark on this 6 Day Classic Guided Tanzania Tour. You will visit some of the most famous sites of Tanzania from the vast plains of the Serengeti to the pink sparkling Lake Manyara to the spectacular Ngorongoro Crater. Spend 6 days in your own private vehicle with experienced guide and driver. So no flying will be necessary. Stay at three family-friendly lodges that will welcome you into the comfort and privacy of their rooms, each affording unfiltered views of the natural surroundings.
Start your African safari as you witness an authentic African safari lifestyle as you visit the local markets of the local Maasai people and partake in their traditional dancing and singing. Your days will be spent getting acquainted with Tanzania's culture, scenery and wildlife.
Continue to the Serengeti - a wildlife paradise, home to the annual Great Migration of wildebeest, game viewing is a year-round activity. Your final stop will be at Lake Manyara where you will be able to witness hundreds of pink Flamingos and tree climbing lions.
This is a perfect safari for you if this is your first time to Tanzania with limited time and you don't want to fly in small planes. This guided Tanzania tour is also great for families with children over 6 years.
Day 1 - 2: Arusha - Ngorongoro Conservation Area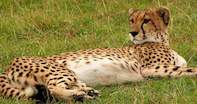 You will be met by your private guide and you will embark on your African safari through the landscapes of Tanzania, past Lake Manyara to the world famous Ngorongoro Crater. Spend your first 2 nights at Serena Safari Lodge. The lodge is situated adjacent to the Serengeti National Park, on the rim of the previously-volcanic Ngorongoro Crater that is centred in the Ngorongoro Conservation Area.

Your comfortable Tanzania safari accommodation has an en-suite bathroom, a private rock-enclosed balcony and modern amenities. Enjoy spectacular views of the Ngorongoro Crater from your suite that is decorated with authentic African safari furnishings and Maasai carvings. Take advantage of your prime position on the rim of the Crater as you spend your first evening enjoying sundowners overlooking the pristine views of the unique ecosystem of the crater.

On the second day of your stay, your guide will take you on a game drive down to the Crater floor where you will indulge in a bush breakfast in full view of the surrounding views and wildlife. This game drive takes place in a specialized 4x4 safari vehicle alongside a trained guide. A large collection of wildlife and bird species can be spotted during the drive, including possible sightings of the big five. If you prefer a more intensive view of the bush, take a guided nature walk around the Crater rim, where close interaction will give you a deeper understanding of the smaller facets of the bush.

Your guided safari will also take you to the local Maasai markets where the traditional culture of this unique tribe is showcased. Evenings are spent interacting with the Maasai people as they entertain you with their story-telling, dancing and singing.
Day 3 - 4: Serengeti National Park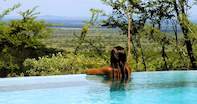 On the third day of your Classic Guided Tanzania Tour the Serengeti National Park awaits you. After breakfast head out across vast rolling plains and continue your journey to Serengeti Serena Safari Lodge where the next two nights of your African tour will be spent.

Your en-suite room will be in a traditional stone and thatch rondavel and will provide you with either a view level to the surrounding plains or overlooking it. With a private entrance and a private balcony, you can relax in the comfort of your room as you enjoy the amenities provided.

The resident game of the Serengeti National Park is simply phenomenal. The park is home to millions of wildebeest, zebras, hyenas, predators and the Thompson's gazelle. The Great Migration is a natural phenomenon that witnesses massive herds of wildebeest and zebra find new grazing plains each year. If your stay falls over the period of this occurrence, you will be amazed by spectacular views of this mass movement that is sometimes disrupted by lurking predators.

Your days will be spent game viewing with your private guide who will take you on daily game drives throughout the Serengeti National Park. Return to Serengeti Serena Safari Lodge in the late afternoons for sundowners and dinner around a fire.
Day 5: Lake Manyara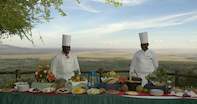 Today say goodbye to the Serengeti National Park and head to Lake Manyara. The final night of your African safari tour will introduce you to Lake Manyara Serena Safari Lodge. Overlooking Lake Manyara, the lodge is situated on an escarpment whose cliffs present you with a central pool and bar area.

After you have settled in, enjoy a relaxing buffet lunch before heading out with your private guide to explore what Lake Manyara has to offer. The highlight of this area are the hundreds upon hundreds of flying and wading pink flamingos. You will be able to witness these pink flamingos as they come down to the lake to drink. Return to your lodge for a relaxed dinner and enjoy your final night of your African safari.
Day 6: Kilimanjaro Airport
Today you will spend your final morning having breakfast in Lake Manyara National Park. Tree-climbing lions are the resident wonders of the park, amongst other wildlife species such as an abundance of monkeys, hyenas, elephants, rhinos and many others.
Spend the morning indulging in a scrumptious breakfast as you admire the interactive woodland and lake-side ecosystems. After your morning bush dining experience, you will head for Kilimanjaro for your onward travel arrangements.
Included
5 nights' accommodation at selected lodges and camps as detailed in your itinerary
6 Days with private guide and vehicle
Game drives in Lake Manyara National Park, Serengeti National Park and Tarangire National Park
All meals while travelling including breakfast, lunch, dinner, special bush dinner, breakfast in Ngorongoro Crater and in Manyara National Park
Sundowner at Crater View
Park and conservation fees
Wi-Fi in main areas of all lodges and camps
Not Included
Drinks
Laundry service
International flights to and from Tanzania (Kilimanjaro International Airport)
Optional activities not listed above
Travel insurance