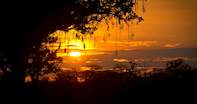 Get acquainted with the untouched wilderness on this 11 day classic Tanzania safari tour of Tarangire, Ngorongoro, Serengeti and Ruaha.
Tanzania Safari Package Highlights
Spend 11 days exploring the impressive landscapes, that create the multi-faceted gem, that is Tanzania.
Visit classical Northern and Southern Tanzania National Parks staying in spacious, comfortable tented camps with delicious food and excellent service
Explore all three craters in Ngorongoro Conservation Area and descend to the floor of Ngorongoro Crater and revel at the sheer beauty of this game rich paradise
Discover another side of the bush as the nightlife of Tanzania comes out of hiding on night game drives in three diverse habitats.
Be active on safari, get out of the vehicle and stretch your legs on guided walks at three different camps.
Climb Olmoti following ancient Maasai trails through forest, grasslands and rocky outcrops
Perfect for couples, small groups and families (with children aged older than 5)
What you can Expect from this 11 Day Classic Tanzania Safari
Guided walking safaris in Tarangire National Park will take you on an exhilarating, untamed trek across the limitless plains as you track the spoor left behind during the night.
Explore the Ngorongoro Conservation Area's unique and diverse landscapes as you venture from the camp. Follow well worn Maasai tracks through the forest to the top of Olmoti Crater. Descend to Ngorongoro Crater floor and spend a full day game drive marvelling at the sheer abundance of game and beauty of the area.
Visit the Central Serengeti area where forested kopjes poke through the Serengeti great plains, home to many lions, leopard and rhino. The wildebeest migration normally passes through this area twice a year (May/June and November/December). Enjoy sightings of the prolific resident game in this serene valley.
Move on to Southern Tanzania to Ruaha National Park, a unique biosphere where Southern and Eastern wildlife converge. Relish the diverse landscapes, baobabs and concentration of wildlife.
Day 1 - 2: Tarangire National Park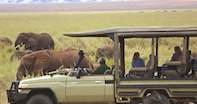 From Arusha Airport board your flight to Tarangire. At the Tarangire airstrip, a lodge representative will welcome you and escort you on a road transfer to the camp.
Spend the next two days of your Classic Tanzania Safari exploring the natural beauty and wonders of Tarangire National Park. Take part in a range of exciting activities that allow you to use all your senses. Enjoy raw sights, smells and sounds of an untamed wilderness. Take a walking safari in remote parts of the park. Hear and feel the elephants rumble as they communicate to one another searching for water and food. Smell the aroma of the sweet grass and medicinal plants as the guide explains their uses.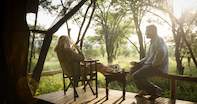 Go on game drives to travel further afield and night game drives to seek out the secretive nightlife that occurs as dusk falls and predators become more active. Sense watching eyes, that eerily glow in the lamplight. Observe how the predator and prey eyes reflect differently in the dark.
Relax in comfort on your private veranda with panoramic views across the baobab dotted bush. Sleep easily on luxurious beds with intricately carved headboards. Dine al fresco and feast on delicious freshly cooked meals.
Day 3: Ngorongoro Conservation Area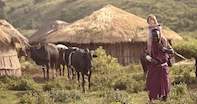 Wake up early for a morning game drive or walk before breakfast. Afterwards, take a drive to the airstrip to board your flight to Lake Manyara, where a guide will meet you to transfer you to the Ngorongoro highlands. During this two hour drive, winding through Maasai villages and gently climbing up to the highlands, enjoy the change in landscape, the cooler air and mountain forests.
On arrival in camp laze in your luxurious tented suite, with floor to ceiling windows affording spectacular vistas. Relish afternoon tea before spending the afternoon with some local Maasai in a nearby village, learning about their unique culture, way of life and beliefs. Return to camp on a night game drive, searching for nocturnal activity in the forest and surrounding hills.
Enjoy a gourmet dinner around the indoor fireplace; unwind with some after dinner drinks before getting cosy in your tent in front of the wood burning stove.
Day 4: Descend into the Ngorongoro Crater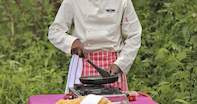 Breakfast in the early morning in the gossamer mist that covers the ground wraithlike and diffuses the light. Once the morning mist has lifted, set off for a full day game drive down on the crater floor. This game rich area is unparalleled in its variety of wildlife species. Spend a rapturous day exploring the crater. Find an adumbral spot for a sumptuous hot lunch, and a frosty drink from the game vehicles fridge, and take some time to just sit and take in the wondrous sights all around.
Return to camp for chilled sundowners as the sun sinks and another fantastic safari day comes to a close.
Day 5 - 7: Serengeti National Park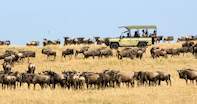 Start the day early and leave camp on foot following an ancient Maasai track to climb Olmoti. As the sun rises so do a plethora of butterflies. Test your birding skills, as the area is a birding utopia. Return to camp for a late breakfast then a transfer down to Lake Manyara airstrip for your flight into the Serengeti.
On arrival in the Serengeti, a guide will meet you and take you on a game drive en route to the small, secluded, intimate camp tucked away between Seronera Valley and the Southern Serengeti plains. Settle into your spacious tent and watch game directly from your private veranda.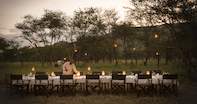 Traverse this game strewn area over the next few days enjoying excellent game sightings, picnics and bird watching. Go on an exciting (optional) hot air balloon safari, taking off before sunrise, floating across the vast plains looking down at the game below. Landing in time for a lavish champagne breakfast.
Delight in a romantic bush dinner, out in the open under a canopy of stars. Or, sit at a communal silver service dinner sharing stories with other safari travellers.
Day 8 - 10: Ruaha National Park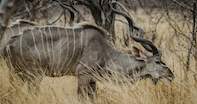 After a leisurely hot breakfast, it's time to say goodbye to Northern Tanzania and time to fly south, to Ruaha National Park, arriving in your new camp in time for a delicious buffet style lunch.
Ruaha is the largest national park in Tanzania and East Africa with a permanent water source, the Ruaha River. Spend the next two days wandering the wild landscape and viewing the diverse wildlife that inhabit this remote area of Tanzania. Be entertained by the antics of the lesser and greater kudu, dik-dik and klipspringers along with the large family herds of elephant. See the lion prides that reside near the camp, lolling under a tree after a successful night hunt.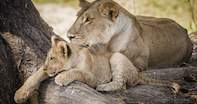 Take guided walks searching for the smaller animals, allowing your senses to awaken to the sights, smells and sounds of the African bush. Go on morning and afternoon game drives, taking a siesta in camp between activities. Watch the bush take on a different demeanour as the sun sets and the nightlife comes out to play on a night game drive.
Swap tales around the campfire with pre-dinner drinks and canapés. Relish three-course gourmet dinners served under the stars, listening to the sounds of nightjars calling and owls hooting.
Day 11: Dar es Salaam
After a cooked breakfast in camp, it's time for your final game drive of this Classic Tanzania Safari, as you make your way to the airstrip. Here you'll board a flight to Dar es Salaam, where the tour ends.
Included
Flights from Arusha Airport to Tarangire, Lake Manyara, Serengeti, Ruaha and Dar es Salaam
Shared road transfers to and from airports
10 nights accommodation in classic safari camps
All meals including breakfast, lunch and dinner as per itinerary
Local drinks including teas/coffees, soft drinks, local brand beers, local spirits and house wines
Scheduled shared game drives
Olmoti Crater hike, Empakaai Crater hike, Maasai cultural visit
Hot lunch on the Ngorongoro Crater floor
Guided walking safaris and night drives in Tarangire & Ruaha National Parks
Laundry
All meet and greet services
Entrance and conservation fees for all reserves as per itinerary
Not Included
Champagne, cellar wines and premium brand spirits
Optional activities, spa treatments and all other extras to be settled direct