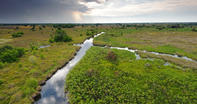 Landlocked Botswana is separated from its neighbours South Africa, Zimbabwe and Namibia mainly by rivers. 17% of the land areas have been set aside for national reserves and game parks. Botswana is larger than France, comprising an area of 500,000 sq km. 84% of Botswana is covered by the Kalahari Desert, a savannah ecosystem interrupted by sand dunes and saltpans.

The lily-clad waterways of the Okavango Delta to the west brim with wildlife, while the salt pans and their archaeological treasures are visited by a huge migration of antelope and predators with the arrival of the summer rains. Botswana has the largest population of Brown Hyena in Southern Africa. Botswana's wilderness can be rough in some areas, a country best explored with a knowledgeable guide and reliable transport. Gaberone is the capital, and major cultures include the European and Tswana. The official languages are English and Setswana, and the local currency is the Pula. Botswana is 2 hours ahead of GMT.

Game viewing on Botswana safaris is excellent year round. Winter (April to September) is a particularly good time to visit Botswana, as the days are mild, the bush less dense and the wildlife congregates around water sources. Summer months (November to March) are an excellent time for birders in the Okavango Delta, however the rains may make many roads inaccessible. The high season runs from July to October, so if you are travelling during these months, it is advisable to book Botswana safari lodge accommodation and tours well in advance.

See below recommended Botswana safari tours and lodges in the best Botswana safari destinations.