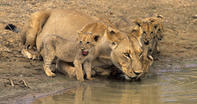 Central Kalahari Game Reserve is located in the heart of the Kalahari desert of Botswana, and is the greatest conservation area in the region. Golden grasses, dwarfed trees and shrubs all form part of the picturesque landscapes of Central Kalahari Game Reserve.
On Botswana safaris, there are sightings of giraffe, hyena, warthog, cheetah, leopard, lion, wildebeest, eland, gemsbok kudu and red hartebeest. The wildlife of Central Kalahari Game Reserve are evenly distributed throughout the region and can be tracked with a professional guide.
An exclusive number of guests can venture into the reserve on action-packed Botswana safari game drives, in specially adapted safari vehicles. The Botswana Kalahari desert is best explored on foot with a traditional Bushman tracker.
A night out under the starlit skies is a magical experience. The skies are clear and the area is free from synthetic lights, making stargazing an even more enchanting experience.
See below for list of safaris in Central Kalahari Game Reserve.
This Kalahari camping safari tour in Botswana is a unique experience that includes breathtaking scenery, desert wildlife, Bushman culture and more...
more
With unending space stretching out in front of you for as far as the eye can see, Botswana's Central Kalahari is the second largest game reserve in the world...
more