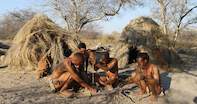 Return to ancient African roots as you navigate through the undeveloped soils of the Central Kalahari on a 10 day nomad-inspired mobile camping Botswana safari tour.
Accommodation: Mobile camping safari
Activities: Morning and afternoon game drives, bush walks, birding, campfire talks, cultural interaction
Destinations: Johannesburg, Maun, Central Kalahari Game Reserve, Makgadikgadi Pans, Nxai Pan National Park, Johannesburg
Engrave your memories in the African soil as you become one with the wild in this nonstop safari adventure in Botswana. Enter the country overwhelmed by its majesty and leave with a connection to its authenticity. Wake up to the sounds of a serenade by a chirping bird choir and be lead into an encounter with the giants of the wild.
Day 1 - 3: Maun - Central Kalahari Game Reserve
Take a flight from Johannesburg's O.R. Tambo International Airport to Maun International Airport in Botswana. Arriving in Maun, on the edge of the Okavango Delta, a representative will meet you for your transfer to the Central Kalahari Game Reserve, where you will spend the first 3 days of your journey.
Being the second largest game reserve in the world, the reserve is a hub of wildlife activity in the Kalahari Desert. The park contains wildlife such as giraffe, brown hyena, warthog, cheetah, wild dog, leopard, lion, blue wildebeest, eland, gemsbok, kudu and red hartebeest.
Your day starts with tea or coffee around a comforting camp fire before you set out on an early game drive to admire the many wildlife species as they awake in their natural habitats. This will be followed by a late brunch, siesta before tea, and your evening game drive adventure in search of the nocturnal creatures. You will return to camp for supper and reminisce on the days' events and sightings while sharing stories around a camp fire under a canopy of stars.
Find comfort in your spacious tent and marvel in the simplicity of your en-suite bathroom equipped with a bucket shower and bush-loo.
Day 4 - 6: Makgadikgadi Pans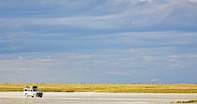 Your journey takes you from the Central Kalahari Game Reserve to the Makgadikgadi Pans which is a large salt pan in the middle of the dry savanna of northeastern Botswana. The pan is all that remains of the formerly enormous Lake Makgadikgadi, which dried up several thousand years ago.
Wake up to a campfire and a warm mug of coffee before setting out on your day of exploring. A game drive will introduce you to the region as well as to its unique wildlife. Visit the nearby colony of meerkats and relax in humour as these strange creatures peek their heads out of a hole to stare at you. Experience a surreal feeling as you interact with the little animals that will treat you as a form of entertainment.
Indulge in a delicious meal before spending some time at your own leisure before heading out into the sunset on a safari vehicle as an evening game drive lies in your horizon. Collect memories on your drive and reflect on the day's events as you gaze into the flames of a campfire.
Dine under the stars as you are served a camp dinner before you return to your spacious tent for a well-deserved rest.
Day 7 - 9: Nxai Pan National Park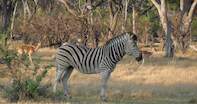 Move your camp from the Makgadikgadi Pans to the Nxai Pan, a large salt pan topographic depression. Start your day in true camp tradition, with coffee or tea around a campfire. Then, embark on a game drive in the Nxai Pan National Park, the seasonal home to herds of 25,000 zebra and their remarkable migration through the Makgadigadi and Nxai Pan region. Pay close attention as you move through the bush as these large numbers of zebra are likely to attract their sly superiors - lions, hyenas and cheetahs.
Return to the campsite for a quick pit stop before heading out into the evening on another game drive. Although the concept remains the same, evening game drives offer an experience different to their afternoon counterparts. Nocturnal predators awaken out of their afternoon laziness and venture out to hunt for prey. Watch as the natural life cycle completes its rounds under a darkening sky. Return to camp for dinner while congregated around a campfire, sharing your favourite moments of the previous days' activities.
Day 10: Maun - Johannesburg
On the final day of your adventure, you will return to Maun where you will board a flight from Maun International Airport to O.R. Tambo International Airport in Johannesburg. Instead of departing from Maun, you also have the option of being transferred to Kasane, where an optional journey to Victoria Falls can be arranged.
Included
Accommodation
Return Scheduled Flight Johannebsburg - Maun - Johannesburg
All meals as per itinerary
Selected beverages
Guided game viewing
Bottled Water and Snacks
Activities
Park Fees
Not Included
Premium Brand Beverages
Items of a personal nature