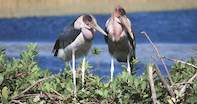 © Heron. Chobe
Expected birding safari in Africa overview:
Accommodation: Tented camp, lodge or hotel
Activities: Bird watching, boat safari, walking
Destinations: Okavango Delta, Lake Ngami, Shakawe, Caprivi Strip, Livingstone, Victoria Falls, Chobe National Park, Makgadikgadi Pans, Moremi Game Reserve.
What to expect from this 17 day Birding Safari in Africa:
You will travel through diverse habitats ranging from the lush Okavango to the arid Kalahari. Enjoy beautiful scenery combined with excellent birding opportunities. Accommodation is provided in comfortable tented camps, hotels and lodges.
Day 1 - 2: Lake Ngami, Botswana
On day one of your birding safari in Africa you will arrive at the private tented camp at Lake Ngami after a short transfer from Maun. This area provides excellent birding opportunities in a scenic environment.
Some of the bird species you could spot include Great White and Pink-backed Pelican, Black-tailed Godwit, Greater and Lesser Flamingo, Garganey, Lesser Jacana and Grey Tit-flycatcher.
Day 3 - 4: Panhandle of the Okavango, Botswana
Travel to the northern border of Botswana and Namibia. Relax at the tented camp before exploring the panhandle by boat and foot. This area is ideal for spotting Pel's Fishing Own and Narina Trogon. Other species you might spot include White-backed Night-heron, Black-faced Babbler, Southern Brown-throated Weaver, African Skimmer and Western Banded Snake-Eagle.
Day 5 - 6: Caprivi Strip, Namibia
On day 5 you cross the border and enjoy a game drive through the Mahango Game Reserve. Keep an eye out for Roan Antelope. Travel through the teak woodlands which offer the ideal opportunity for some birding.
The comfortable tented camp is situated on the Kwando River. Some of the bird species in this area include Purple-banded Sunbird, Copper Sunbird, Shelley's Sunbird, Rufous-bellied Tit, Sharp-tailed Starling and Wood Owl.
Day 7: Katima Mulilo, Namibia
Travel to Katima Mulilo, home to the Schalow's Turaco. Explore the surrounding area for the Turaco and other bird species such as the African Finfoot, Rock Pratincole, Brown Scrub-robin, Giant Kingfisher, Eastern Nicator and Racker-tailed Roller. After exploring the area, return to the hotel for a delicious dinner.
Day 8 - 9: Livingstone, Zambia
Head east on your birding safari in Africa into Zambia and towards the majestic Victoria Falls. The scenic forest is home to a range of bird species, including Olive Woodpecker, Verreaux's Eagle, Trumpeter Hornbill, Crowned Hornbill, Narina Trogon and Taita Falcon. Both nights will be spent at a hotel.
Day 10 - 11: Chobe National Park, Botswana
You will leave Zambia and head for the well-known Chobe National Park, home to about 60 000 elephants. The area also boasts a diverse range of bird species. Some of these species include Bronze Mannikin, Racker-tailed Roller, African Skimmer, Brown Firefinch, Collared Palm-thrush, Copper Sunbird and African Finfoot.
Day 12: Nata and Makgadigadi Pans, Botswana
On day 12 of your birding safari in Africa you will travel into the semi-arid Kalahari habitat. The highlight of this birding safari is the Sowa Pan in the Nata Bird Sanctuary. The area features Lesser Black-backed Gull, Pallid Harrier, Montagu's Harrier, Greater and Lesser Flamingo, Marsh Owl and Abdim's Stork.
Day 13: Thamalakane River, Maun, Botswana
Wake up early and enjoy a breakfast en route to the lodge at the Thamalakane River. There are plenty of birding opportunities on your way to the lodge. Bird you might spot on your way to Maun include Purple Roller, Bat Hawk, White-backed Duck, Lesser Jacana and Kalahari Scrub-robin.
Day 14-16: Moremi Game Reserve, Botswana
Your final destination is the Moremi Game Reserve situated on the eastern edge of the Okavango Delta. This area boasts a diverse habitat, ideal for spotting a wide range of bird species. Some of these species include Malachite Kingfisher, Black Coucal, Wattled Crane, Rufous-bellied Heron, Slaty Egret and Swamp Nightjar.
Day 17: Maun, Botswana
Today is the last day of your birding safari in Africa. You will head back to Maun via a scenic charter flight. From Maun you will continue onward to Johannesburg.