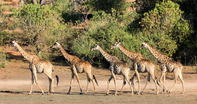 © Ann Gadd
One of the most popular safari destinations in the world, Botswana offers ever changing landscapes and abundant African wildlife combined with luxurious tented camps and exciting activities.
The Experience
From the Central Kalahari Game Reserve in the south to the lush green oasis of the Okavango Delta and the Chobe Game Reserve in the north, Botswana offers a wide range of landscapes from never-ending salt pans to fertile floodplains and riverine forests.
Phenomenal game viewing makes Botswana one of the top safari destinations in the world and a must-see location of avid game and bird watchers. Visitors will be spoilt for choice with an abundance of luxury safari lodges to choose from and carefully planned safari packages ensure that planning your Botswana escape is an easy and enjoyable experience.
Accommodation Types
Accommodation varies depending on where in Botswana you decide to stay and what the budget is of the safari package you book. Most rooms range from luxury safari tented camps to bush chalets and intimate safari lodges.
For those wanting to experience a safari as the intrepid explorers once did, guided mobile safaris offer the opportunity of moving from one location to another as the entire camp is packed up and reset up in a new location. Luxury and sophistication ranges depending on your budget and requirements.
Highlights
©Shem Compion
The top highlights of any visit to Botswana include exploring the lush green water mazes of the Okavango Delta in a traditional moroko boat. The seemingly endless Makgadikgadi Pans and the Nxai National Park are a wonderful destination for those wanting to quad bike into the middle of nowhere, or to experience the sight of thousands of animals migrating at the change of seasons.
A boat cruise along the Chobe River is a unique way to spend time game viewing as you are able to watch the animals, such as Elephant and Lion wandering down to the river banks for a drink from the vantage point of the water itself.
Considered one of the best safari game viewing destinations in Africa, the Moremi Game Reserve is the place to go for those intrepid safari explorers who want to see Wild Dog, while the Central Kalahari Game Reserve will truly test your 4X4 skills.
For those travellers wanting to gain some insight into the history of the area, a walk with the local Bushmen in the Kalahari is a must-do attraction, and the Tsodilo Hills are a wealth of historical artefacts and ancient rock art.
Activities
The ever changing landscape of Botswana provides and endless list of activities for safari goers to enjoy. Aside from exceptional game viewing on guided game drives, guided horseback safaris and river game viewing excursions on the Chobe River, visitors can also embark on an Elephant interaction safari where days will be spent interacting with these magnificent animals and learning about conservation.
Quad biking across Makgadikgadi is a must-do activity for those seeking some adventure while avid bird watchers will be in paradise with an abundance of bird species in each different location.
Access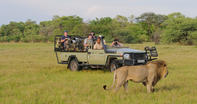 ©Shem Compion
The two main ways to get to Botswana are either by commercial flight or by road. The main airport in Botswana is located in Gaborone; the SeretseKhama Airport. The other major airports in the country are located at the frontier town of Maun or at Kasane, near the Zambian border. There are daily flights from Johannesburg and Cape Town to Maun, from whence we arrange for chartered flights on light aircrafts to get you to your safari lodge.
Botswana is 4X4 country and experienced 4X4 enthusiasts will enjoy being able to navigate this rugged, truly African landscape on their own. If you do decide to self-drive Botswana, remember to always carry a GPS, 2 spare tyres, lots of extra water and an extra jerry can of petrol.
There are 15 main entry points into Botswana, of which the main one is through Johannesburg; South Africa and into Gaborone. Alternatively you can access the country from all other surrounding countries; Zambia, Namibia and Zimbabwe. All the main roads (of which there are not that many) within Botswana are well maintained tarred roads.
Climate
Botswana experiences both temperature and weather extremes throughout the year. In winter (between May and August) days are warm, to hot, with clear skies while the nights can be cold and visitors are advised to pack gloves and extra layers.
If you want to travel to Botswana for game viewing then the dry months are recommended as the best time to go as the vegetation is thinner and the animals seldom stray far from the water, making them much easier to spot. Summer (between October and April) experiences rainfall and high humidity (usually between January and March) with daytime temperatures often exceeding 40°C (104°F).
See Best Time to Travel to Botswana If you want to travel to Botswana for bird watching then the wetter rainy season is considered the best time to go as many migratory birds can be found in the area, making their nests and nurturing their young.