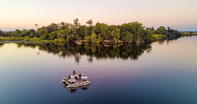 Xugana Island is situated in the renowned Okavango Delta in Botswana and is one of the most striking permanent water locations in the entire Delta. Xugana Island is the perfect destination for a tranquil getaway with a twist. Xugana Island can be accessed by air transfers or a unique boat safari.
Unlike traditional Botswana safaris, game viewing is practiced from the lagoon. This sanctuary is home to an abundance of bird and aquatic creatures, that can be spotted on scenic boat excursions and inland walking safaris.
Bird and fish enthusiasts will have a blast at Xugana island, spotting and searching for rare species. Exclusive Xugana Island accommodation is available to guests who want to avoid the crowds.
Exciting activities such as walking safaris, boat cruises, fishing and Mokoro safaris are delighted in Xugana Island.
See below for specialised Xugana Island safari recommendations.
Xugana Island Lodge offers you a Botswana safari experience in the Okavango Delta with excellent accommodation in a serene setting overlooking the Xugana Lagoon....
more