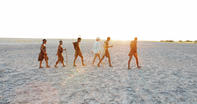 Makgadikgadi Pans is located north-eastern Botswana, in the middle of the dry savanna. The Makgadikgadi Pans is surrounded by the Kalahari Desert, covers a large portion of Botswana's land. In the surrounding area, rolling grasslands and casual sightings of palm trees can be spotted at the Makgadikgadi Pans. The area can also resemble a lake, depending on the amount of rainfall in the region.
The Makgadikgadi Pans is accessible by air transfers and specially adapted vehicles. During the dry months, wildlife are more scarce due to the hot and unpleasant winds. However, many desert adapted wildlife species of game such as aardwolf, African wildcat, caracal, genet, honey badger, spring hare, jackal, kudu, meerkat, porcupine and many more.
The Makgadikgadi Pans has a rich birdlife and ostrich, secretary bird, guinea fowl martial eagles and many other species of birds can be spotted.
The unique Makgadikgadi Pans is perfect for a quad-biking adventure - there are no obstacles and guests will experience no difficulties. Botswana walking safaris through the salt pans are best experienced with a knowledgeable Bushmen.
See below for Makgadikgadi Pans safari experiences.